From across the globe, experts and rookies alike came to check out the Joyride Academy Experience at Micromobility Europe in Amsterdam earlier this month. Attendance was strongest from local micromobility operators (especially those who could bike or scoot there), but this industry is one worth travelling for. Our audience hailed from Iceland, Mexico, South Africa and beyond.
Throughout our two-hour workshop we used a live poll software to collect feedback and questions from attendees. Want a glimpse into what micromobility operators really want? We've tallied the results to bring the experience, and insights, to you.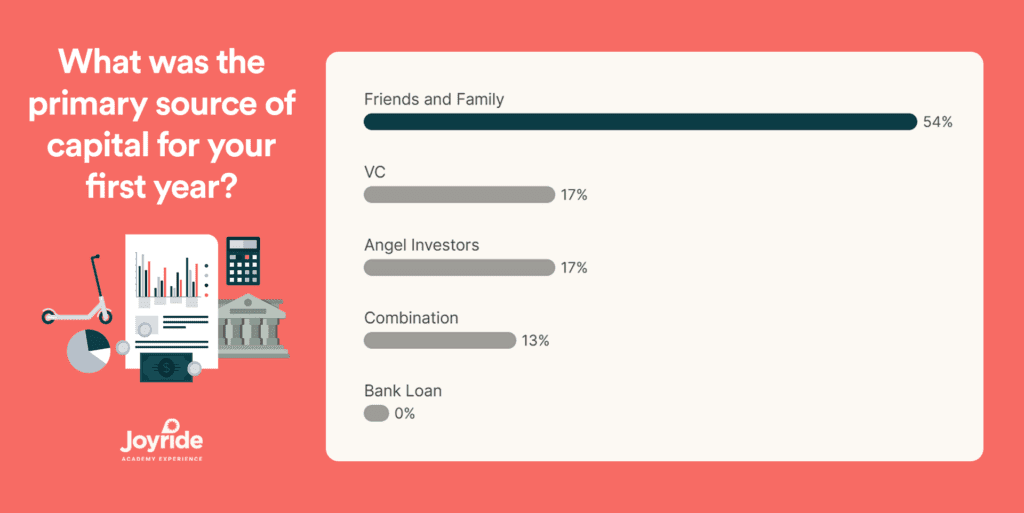 Insight #1: The micromobility market continues to consolidate 
Shared micromobility is a capital-intensive business, so we kicked off the Experience with everyone's favourite topic: money. Record-breaking inflation levels, intense competition, and tightening regulations are all contributing to a difficult landscape for US and EU vehicle sharing. A key concern for new operators in the audience was: "Is it really possible to be profitable?"
Our first session was titled Financing 101K and covered the traditional strategies plus new thinking to raise funds. We were keen to know how the operators in attendance had obtained capital for their first year of business. 
The majority (54%) of attendees responded that they had relied on friends and family as their primary source of funding. We weren't surprised to see this, but did expect to see angel investors near the top. Bank loans were a 0% response, which we figured would be low but not non-existent.
What this means for new and local players
In 2021, the top 10 shared micromobility operators received 90% of the total equity funding. If the room were full of Tier, Voi, Lime and Bird founders the answers would've skewed heavily in favor of angel and venture capitalist dollars. VC money is drying up, but those investment institutions will still be available for maturing companies seeking a Series A, B, or C. The early risky money is going to be harder to come by. 
The good news is that alternative sources of financing such as B2B lending and vehicle leasing are allowing more local players to join the micro-transit space. Whether you choose traditional lending, bootstrapping, angel investors, crowdfunding, or a mix, the takeaway is there is no right or wrong source. What is important is choosing the path best for your growth and sustainable positive cash flow. 
Want to know how local shared-mobility operators are standing up to the industry Goliaths? Click here to watch Joyride Founder and CEO, Vince Cifani, on the main stage at Micromobility Europe.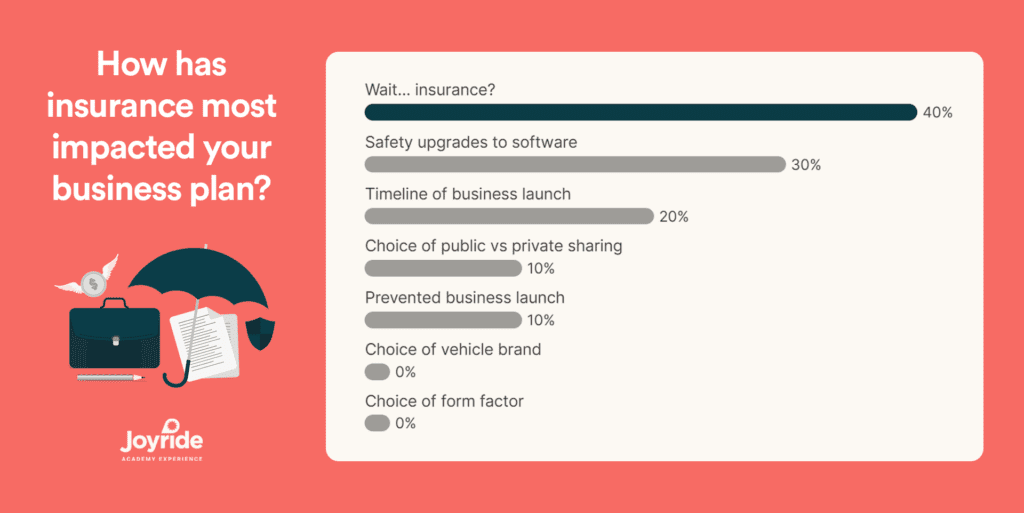 Insight #2: Insurance is the stick in the spoke
Funds and vehicles, that's all you need to get started right? Before diving into our Data-Driven Insurance session, we wanted to gauge what the audience thought, assumed, or generally knew about commercial micromobility insurance. 
40% responded that this requirement was a surprise to them; which is what we anticipated. Avoidance and ignorance of this topic is a real industry trend. Insurance is an area of business operation that people wish didn't have to exist. It's complicated and expensive. 
After eight years in the micrommobility biz, we're used to being the experts in the room. To prove it we made a three-part video series and a whitepaper to help you tackle one of the industry's biggest obstacles. Knowing what type of policies you need and which questions to ask is key to finding the right coverage.
The second most popular response, safety upgrades to software, came in at 30%. This might not be the same in a North American audience, but made sense given this conference was in the EU where regulations are more rigorous. 
The remedy for risk is the cloud
Insurers have yet to be able to effectively tap into micromobility data even though these devices are tracked while ridden. This contributes to the high cost and general confusion associated with insurance for micro-transit services. 
Thankfully, work is already being done to aggregate shared fleet data and reduce risk ratings. It will take time for meaningful change, but with the right planning and partnerships, you can find strong coverage at an affordable rate to protect your fleet, staff, and riders, and ensure company growth.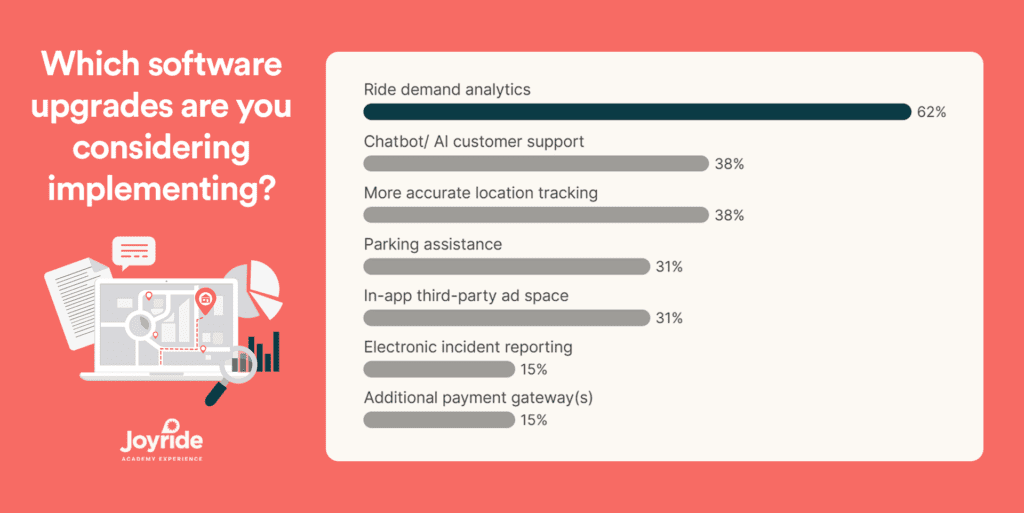 Insight #3: The industry is in a new phase of development
Strip everything away and the fundamental of shared micromobility is rides. Our favourite session, Supercharging Revenue, was all about increasing rider engagement and retention. 
Given that this was the Joyride Academy Experience, we took some time to talk about the native functionalities of the Joyride platform that lend to margin-improving and actionable insights. We then asked the audience which upgrades or plugins they were considering for their ride-share software. 
It was no surprise to see that 62% of the audience had plans to implement ride demand analytics. Hub deployment and vehicle rebalancing is hyper-localized and often dictated by guesswork. A deep look into the data is required to sort out the patterns and potential for each individual fleet. 
At 38%, chatbots and more accurate location tracking tied for second place. Upon reaching maturity in a market, most operators realize they will hit an operational or demand wall through manual processes. More vehicles (ideally) means more rides, which translates to a greater need for quick customer support and precise data reporting. 
New problems means new solutions
There is no shortage of superb third party services delivering ever-improving tailored solutions to solve some of the biggest issues in micromobility. We see this as proof of the industry truly becoming an ecosystem. 
This will welcome new investments and accelerate the technology needed to shift cities away from cars and towards shared LEV solutions. As long as those services demonstrate an ROI for operators, they will continue to get adoption.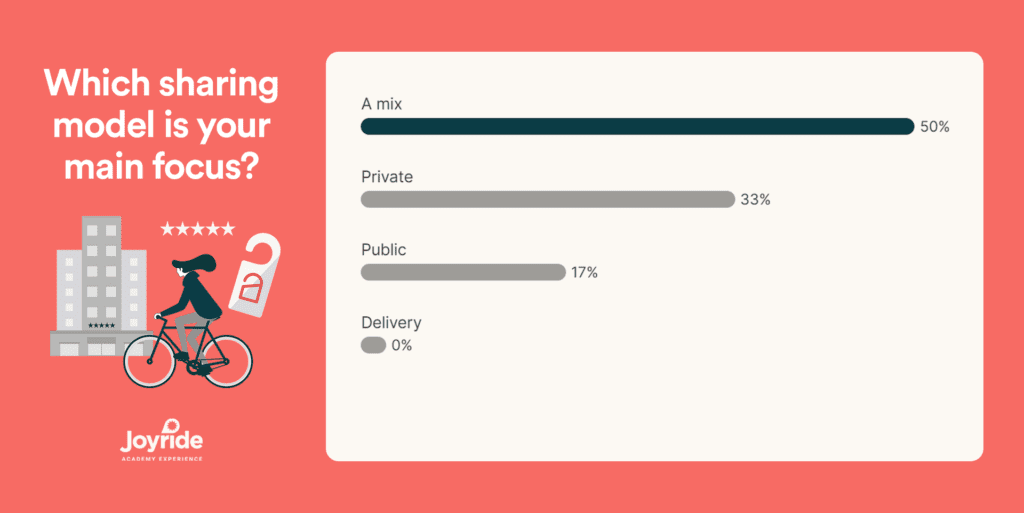 Insight #4: Shared fleets are diversifying 
Historically, public sharing has been the entry point for entrepreneurs new to micromobility. We love free-floating scooter schemes, but there are many more viable (and lucrative) ways to operate a vehicle-sharing service. 
Our final poll surveyed the audience for their current operating model(s). We were expecting a near 50/50 split between public and private, and therefore pleasantly surprised to see a multi-service model mix emerge as most popular at 50%. No attendees were currently engaged in a delivery service model, but many noted afterwards they were considering it. 
Micromobility with macro-utility 
As mentioned before, our audience was predominantly European. Because the regulations are so onerous on public sharing, the margins are often very tight. Many entrepreneurs have been forced to experiment with multiple operating models in order for their fleets to sustain annual profits or runway.
We see this response as a trend to the extent that it's demonstrating a move away from siloed operating models. Once an operator has established their brand, expanding to be multimodal or multi-service can tap into demand at localized market level. This time next year we hope to see a near even distribution on the insular models and a heavier percentage voting "a mix."
Insight #5: Shared micromobility will go as far as you take it
This was the closing thought we imparted on our audience to wrap up the Joyride Academy Experience. The Joyride platform continues to evolve to support the efforts and imaginations of our customers. Every day we see operators test creative ways to diversify their fleet offerings and engage customer groups. 
The sky's the limit for how you might adapt the tools and technology of small electric vehicles to build your business. 
Wish you were in attendance at the Joyride Academy Experience? Stay tuned for videos of each session. In the meantime, the learning has far from stopped. Check out Joyride Academy for an online educational experience unlike anything else on the market, filled with how-to videos and more data-filled insights.