If the last two years have taught us anything, it's that experiences matter. Micromobility is, by nature, a shared experience that requires constant momentum, intelligence and personalization. With this in mind, we're thrilled to announce the inaugural Joyride Academy Experience, taking place on June 1 in Amsterdam as part of Micromobility Europe.
What is the Joyride Academy Experience?
The Joyride Academy Experience is a high-touch, in-person workshop squarely focused on micromobility operators and how they can successfully launch and grow their businesses. Through a dedicated two-hour knowledge track on June 1, we will address the most pressing (and often overlooked) pain points of the industry with the help of leading experts, current research and hands-on demonstrations. As the world's first micromobility software platform, Joyride has been an industry leader since 2014, powering operators in 200-plus global markets through all-in-one solutions. So it's a natural extension for us to bring a decade's worth of intelligence into an in-person educational event.
Who can join the workshop on June 1?
The Experience is completely free to Micromoblity Europe ticket holders. It is an add-on event that is integrated with the annual two-day conference (taking place June 1 and 2 at Amsterdam's historic Kromhouthal). It is designed to be a complementary knowledge session dedicated to operators/prospective operators and improving shared mobility operations. Academy Experience sessions are meant for operators of all sizes from across the globe. 
If you haven't registered yet for Micromobility Europe, Joyride has a limited number of discounted conference tickets available for purchase here. Use the code FriendofJoyride, and your two-day Micromobility Europe pass will be significantly discounted to €299, so act fast!
What can I expect from the event?
The two-hour workshop will be segmented into hyper-targeted themed sessions that focus on distinct areas that impact micromobility operators. It doesn't get more detailed than this. Areas of focus include: securing fleet financing, navigating and obtaining insurance, maximizing operational efficiency and growing with the right hardware. 
This is, after all, an operator workshop. Expect a good balance between informative lecture and open discussions with partners and customers. Attendees will receive specific information that will help them launch their business and make more money. Here's an example of the type of content covered: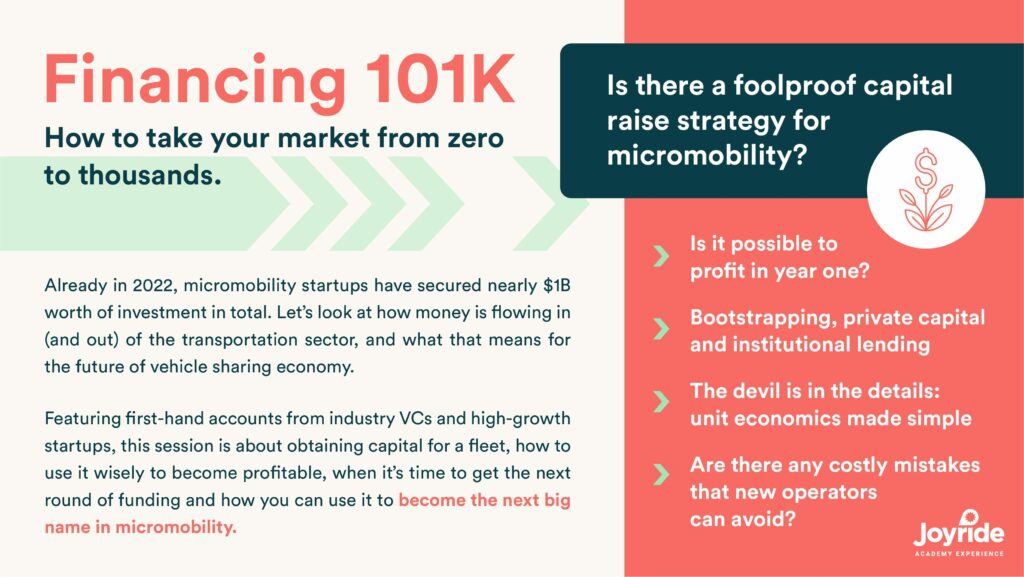 How do I register for the Joyride Academy Experience?
Registration for the actual Academy Experience is free for attendees of Micromobility Europe (don't forget to use the FriendofJoyride discount code!) There is no formal sign-up for the Experience workshop, but we'd love to know if you will be joining us–and if there are specific questions you're hoping to have answered. While our demographic of operators is unlimited, space for the workshop is not. The session will be capped at 100 attendees. Therefore, please add your name to the list here so we're sure you have a spot in our audience.
Already excited and ready to get those wheels turning?
Be sure to keep your eyes on our blog and social media channels. We will be announcing more session details and industry insights leading up to the main event on June 1. In the meantime, we're always here to help grow your micromobility business with Joyride's one-stop platform. Talk to us here.
The Joyride Academy Experience is where industry entrepreneurs, experts and tech innovators gather for an afternoon of hyper-targeted knowledge sessions that enable micromobility operators to grow their businesses efficiently, sustainably and profitably.  

Micromobility Europe is an interactive conference that celebrates small electric vehicles and their power to transform cities. Held in Amsterdam from June 1-2, the event connects the industry's top thinkers and builders to chart the future of the micromobility ecosystem.