Permits are penned and vehicles are revving to be rented, so what are the best ways to let everyone know your micromobility business is in business? Growing a shared mobility fleet takes the right software, hardware and operational commitment, but it also requires marketing efforts that are easy–and actually fun–to implement. Being a sustainability-focused company, you already have a built-in brand that revolves around living an eco-friendly lifestyle focused on convenience, affordability and leisure. So now let's roll with it. From social media to in-app promotions, here are the five marketing tips to boost your micromobility business: 
Build your online presence, one click at a time
The first stop on your marketing journey (and fleet launch in general) is establishing a user-friendly website. Your website should reflect your brand's tone, color scheme, business model and other details related to your location. Many of our customers have turned to our Alliance offerings that provide full website branding and development services. Regardless of your website development process and provider, things to consider when launching your online presence are:
Branding conceptualization
Consistent website copywriting
Using a simplified digital publishing platform like WordPress with one-click template generation
Cohesive user flow across at least eight web pages (including Terms of Service, etc)
Live chat functionality
Desktop/mobile optimization
On-page SEO functionality so people can easily search for your site
Premium widgets and interactions
Don't forget to include customer testimonials and other highlights from your App Store reviews. The more credibility your business holds, the more people are inclined to rent your vehicles and retain your services. 
Building your website is crucial, but so is bringing the right people to it. Consider allocating a budget for paid advertising through an online advertising program, such as Google Ads. People use Google to search words or phrases over 3.6 billion times per day, and paying for search terms that directly relate to your business will pay off in a big way–even with a small spend, since you only pay once someone clicks on your ad. Since keywords and search terms related to micromobility are rising in popularity, it's a good idea to research what would drive the most eyeballs to your site, which in turn will lead to more brand recognition and, ultimately, vehicle rentals. Think of localized queries such as "Scooter rentals in Tucson, Arizona," or "Bike-sharing in Montana" and then build relevant campaigns around them. For more on Responsive Ads, Text Ads, Image Ads and Video Ads, as well as how to implement them, here's a complete overview of Google Ads best practices.
Put the right content on the right platforms
It's up to you to choose social platforms that are realistic for your team to curate content. We all like to be fast, but growing a meaningful social media following takes time. For example, if you choose to put content on TikTok or IG Reels, you'd want to put out multiple videos a day to build your following. In order for them to fit the algorithms, they need to be high in volume and the more high-quality the video, the farther they will reach. 
If this seems too overwhelming for your team and you're not in a position to hire a marketing manager, explore other platforms like Twitter that focus more on knowledge sharing and text/image-based content.
Start building your brand on social media with these three things:
Consistency in your style 
Being relevant to your target audience
Measure your success (and shortcomings) and adjust accordingly
Figure out what your customers care about and build content around those topics. If you need to narrow down your ideal target market, start with building personas or use customer data to experiment with content ideas. Internally, it also makes sense to have realistic expectations on which platform suits your brand best. For example, if you're a B2B brand with fleets that serve hotels and other private businesses, then LinkedIn is an optimal spot to put your networking efforts to work. However, a public-facing fleet in the middle of a bustling city, such as UK-based Zipp Mobility, will want to tap into Instagram with regularly updated content.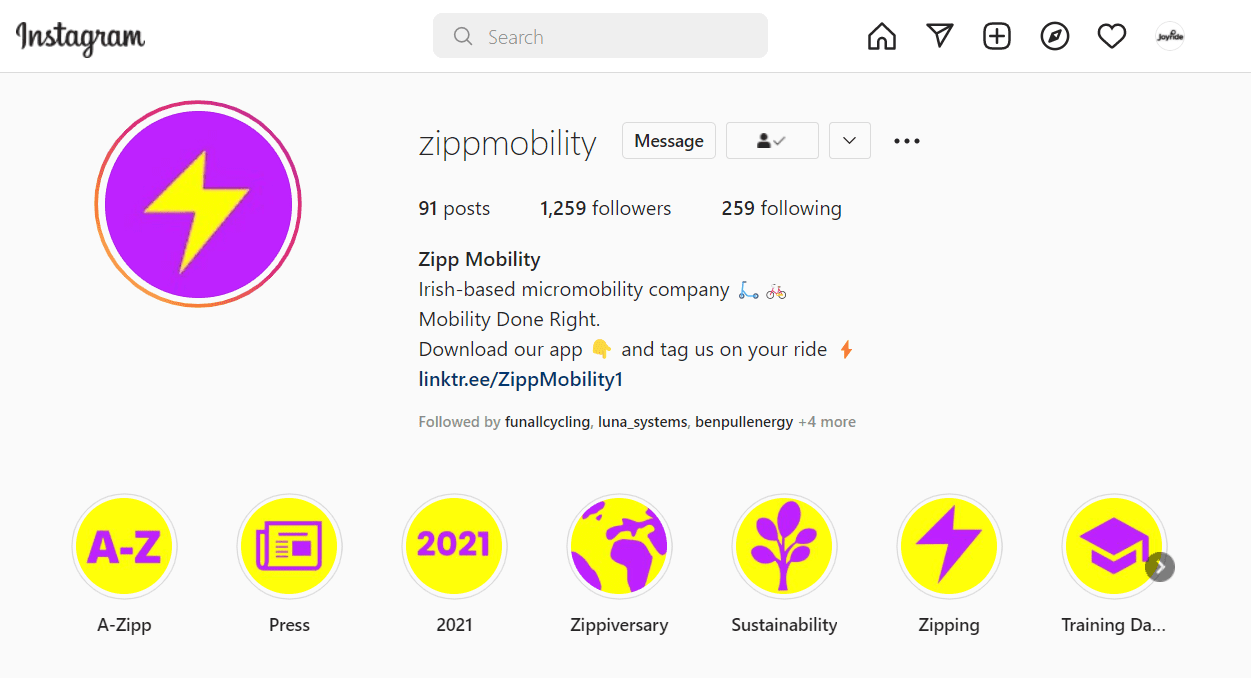 Be sure to optimize your profile so you can add direct links to your rider app and add a call to action to every post. To learn more about social media marketing, consider taking a free HubSpot Course. There are tons of resources out there, it's about taking the time to measure what will work for you!
Get social for your best #electriclife
Using hashtags is nothing new, but creating strong content to pair with the hashtag can make or break your engagement. The goal of hashtags is to find like-minded users who will engage with your niche, so it's important that your content provides some sort of value to those who come across it.
When building a hashtag strategy, start by doing hashtag research. Be sure to look for niche hashtags, trending hashtags and build your own branded hashtags to separate yourself from competitors. 
Valuable content to pair with your hashtag research can include tips and tricks for riding, how shared fleets make traveling convenient or just making micromobility look fun. The great thing about hashtags is they are free to use but can be competitive. So when you do your research, make sure you use the right volume of posts to not get lost in the sea of content. 
On Instagram, for example, there are currently 20,000 posts of #electriclife. Most of the posts are featuring scooters, but with the right volume and content type (i.e. photos, animated pictures, videos or text-based images), you could get in front of the people in your area who are likely to rent electric scooters. 
Asking your riders to tag you on social media is both free and valuable to your brand. Having customers showcase your vehicles and services is how you can increase awareness. Give riders incentives to take creative action with your fleet. Having a picture or video content on social media for the most creative #electriclife picture, for example, can get your audience excited to engage with you. 
Small prizes like a free 30-minute ride can also get people to talk about you. Whether it's a contest or not, incentivizing your audience to tag you in things or use branded hashtags and get enough volume to start trending, is a great way to get your scooters in front of your target market.
Harness the promotional power of your user app
Your best marketing tool may very well be in the palm of your hand. Joyride's white-label rider app is packed with features designed to market your fleet to your customers and collaborate with local businesses. And since Joyride's unique multi-ride feature lets people rent several vehicles at the same time, your target audience instantly multiplies with us. 
Through IoT connectivity, geomapping sets the zones or bounds in which your vehicles can stay within the city. Using Joyride's push notifications, you can target a specific geofence to drop a message to your customer. This gives you a creative licence to advertise promotions, safety messages or encourage social media activity. Through our Custom Zones feature, you can run a promotion with a coffee shop and have their location placed on your rider's map for familiarity. When they hit the designated area they can get a push notification to use a coupon. That 25% off offer goes a long way for your business and your partner, and it will breed loyalty from your customer. 
The Custom Zone on your map can include information on the location, a hyperlink, a logo\photo and more.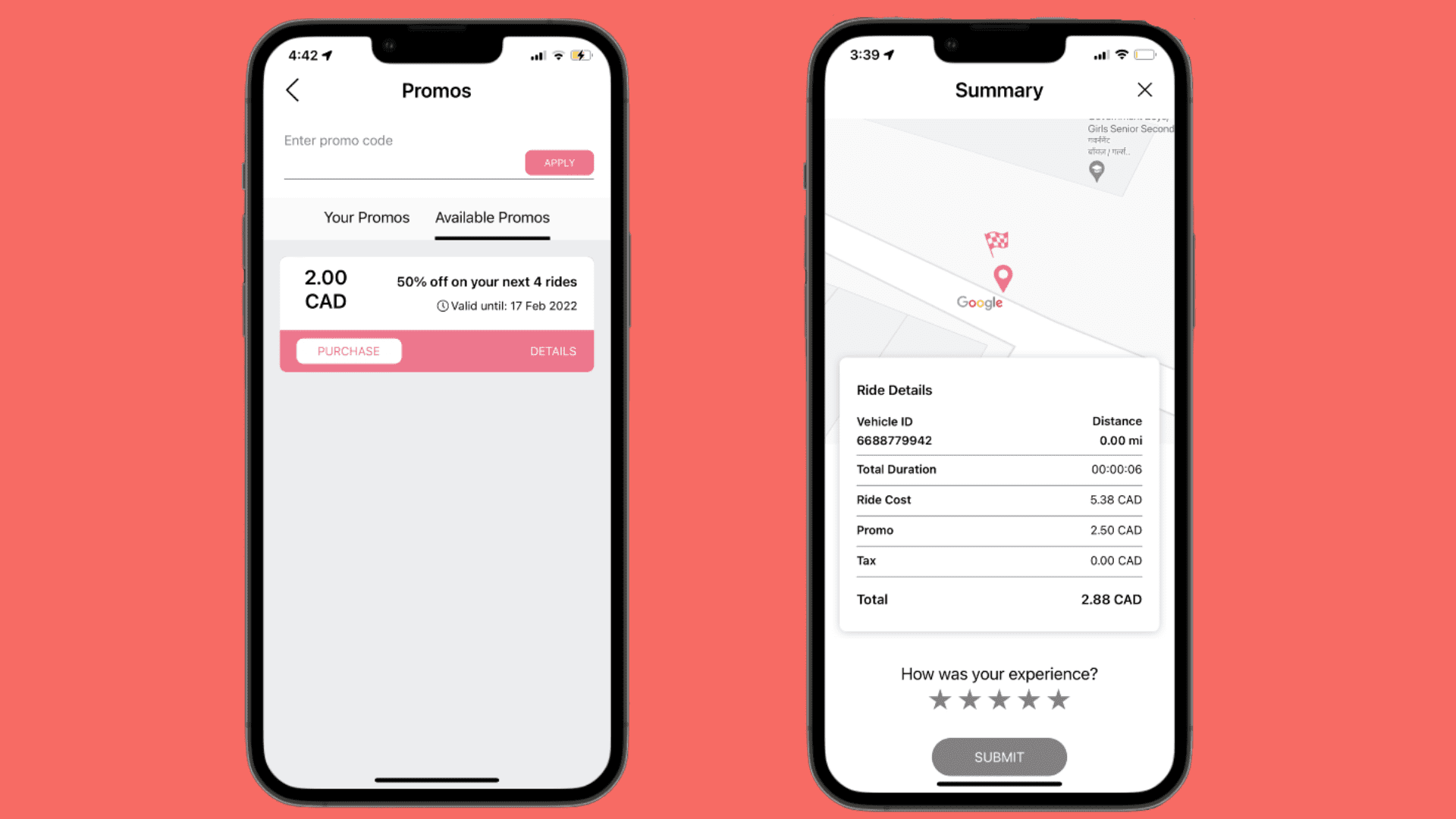 Other helpful marketing tools in your Joyride app allow operators to communicate with their riders via email, SMS or both. You can build campaigns and save the templates so they don't need to be rebuilt every time. Get to know your audience and monitor engagement around open rates, click-through rates, bounce rates and unsubscribe rates to figure out how frequently you should send out campaigns. These campaigns can be sent weekly, biweekly, or monthly; test and measure what works well for you. 
SMS campaigns can be very effective, especially since your riders have consented to you contacting them. Considering that 64% of people spend more time on their cell phones than ever before, they have become more receptive to SMS marketing. 
The key to these campaigns is to be concise, to have a direct call to action and to not spam your audience. There's no harm in trying out different scenarios to see what works–and the final outcome will be added revenue for your business and an uptick in recurring riders.
Remember, traditional micromobility marketing matters
High-tech and social savviness aside, let's not forget the importance of traditional advertising. Creating and delivering flyers and other promotional marketing materials are a tried and true way to spread brand awareness, especially in places like college campuses and local retailers that are nearby your point of rental. Even your picture on billboards and boxes of pizza will go to great lengths, especially if you include a clear tagline and call-to-action. 
Other traditional marketing considerations are public relations outreach. Is your company doing something unique in your community? Did you just close a funding round and you want to spread the word about it? Draft up a clear and concise press release and pitch it to local media outlets. Many publications are eager to write about local businesses that are carving out a niche and name for themselves in a modern industry such as micromobility. Make sure you have a newsworthy hook to show why your business is worth writing about, and you will find that the outcome will be worth the effort.
There are so many ways to promote your services while also educating your audience about sustainable transportation. For more marketing tips and a full demonstration of how the Joyride platform can enable promotional offers for your business, contact us today.