Understanding the importance of geofencing  and parking is a big part of navigating the ins and outs of micromobility. If you're a shared mobility operator or a city planner, what happens when a rider completes his or her journey is just as important as the trip itself.
Think of Paris.

The French capital is currently at a crossroads in deciding how to handle the issue of scattered scooter parking that's clogging sidewalks, and the city's April 2 vote on whether or not to ban these LEVs from its streets could send out a large message to the micromobility community. 
In Paris, more than 18 million journeys were made on the city's 15,000 for-rental scooters in 2022, clocking an average of 400,000 unique users each month. Shared scooters are an integral part of city life for Parisians and tourists alike. 
According to Zag Daily, operators argue that banning e-scooters could cause Parisians to turn to more polluting modes of transport and create more crowded public transportation.
If we can learn anything from the process underway in Paris, it's that cities need micromobility–but they also need proper geofencing and parking protocols in place. 
What exactly is geofencing in micromobility?
Geofencing is a digital tool that uses GPS or similar technology to remotely control the movement of vehicles, either in a pre-programmed way, or in real time. Geofencing, in most cases, attempts to prevent illegal parking or riding, while city dashboards aim to collect useful information on the operation of micromobility systems in order to make data-driven decisions.
At Joyride, our backend dashboard is used by operators to set and monitor geofencing parameters. This can relate to operational zones and designated parking areas (more on that below!) Things like speed limits, pedestrian areas and street closures are all taken into consideration when mapping out geofencing regions.
For example, Joyride's Live Map allows operators to see all of their vehicles in real time. Operators can watch as riders pass through various geofence zones, such as slow speed areas, or come up to the borders of restricted areas.
Similarly, a dashboard heatmap shows where your users are most active, with date filters to help spot differences during commute times, festivals, weekends, game days and more.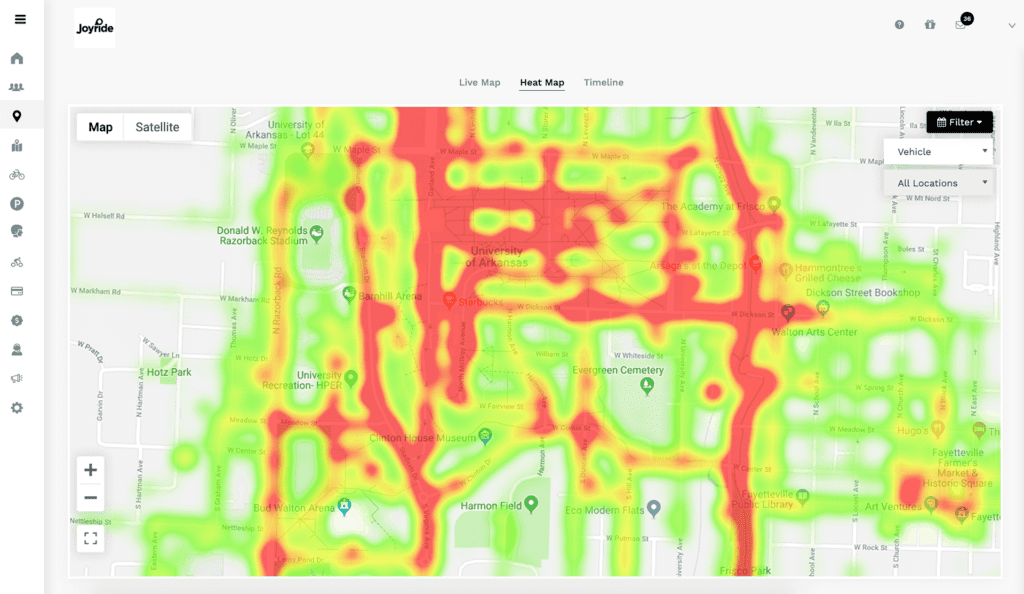 Where does scooter parking fit in?
In an ideal micromobility model, people adhere to geofencing regions and park their vehicles in designated, pre-assigned areas. However, that's not always the case, and therefore it's necessary for technology to adapt to the habits of riders.

The research is mixed. Back in 2018 in San Jose, California, surveyors found that 90% of scooters were parked on the sidewalk and only 10% of sidewalk-parked scooters failed to be parked in the furnishing zone. However, a more recent 2022 survey from Portland State University found that only 28% of scooters were parked in compliance with all of the city codes and 72% were non-compliant with at least one code. Parking compliance improved slightly when e-scooters were parked in groups of two or more, increasing to 35%, while individually parked scooters were compliant only 24% of the time.

If there are incentives in place to keep riders motivated to properly park their vehicles, then these numbers will surely adjust accordingly. 
Why features like Premium Parking are here to keep things in check
In harnessing geofencing technology, our latest Premium Parking feature encourages riders to park their shared vehicles in designated parking areas.
By charging extra fees for parking outside of these areas, Premium Parking incentivizes riders to park in a way that is safe and efficient for other riders. It's designed to not only help keep streets clear of clutter and ensure that vehicles are available for others to rent, but also simplifies the ever-important rebalancing process for operators.
Plus, if those who insist on parking outside of the boundaries are willing to pay the additional fee, then operators will receive additional incremental funds for the inconvenience of higher rebalancing costs. (Get all the rebalancing tips you need from our Joyride Academy course here). 

How easy is it to encourage proper parking?
Many micromobility users are in favor of pay-to-park models, as long as the designated parking areas are easy to find on-ride, and vehicles are made available within riders' routines so they adapt a reflex-use case of these services.

Operators who use Joyride's proprietary Premium Parking feature, for example, can: 
Set parking requirements and fees per fleet 🅿️

 

Notify riders of parking fees outside designated areas 📳

 

Enable riders to scan their QR codes and see info tips on parking in the designated zones



Track parking fees collected 🪙
Geofencing and parking logistics are constantly moving targets–literally. It's an ongoing balancing act between keeping streets and sidewalks safe, making the experience convenient for riders, maintaining compliance with city officials and ensuring operational efficiency. With the help of technology, we are helping to strike this balance one rider at a time.

To find out more about Premium Parking, visit our App Plugins page or request a personalized demo here.