Whether bikes, scooters or multi-modal fleets, an estimated 298 North American cities offered at least one public micromobility service in 2021. According to NABSA, ridership that year totalled 128 million trips—an impressive post-pandemic rebound, especially considering the limited ride season available to northern climates.
It's clear that shared mobility vehicles are racking up ride time – but they're actually moving even more than you think, and on an extra set of wheels. Rebalancing is a key part of a fleet's success, and today we're getting into the why, how and where.
First of all, what is rebalancing?
Rebalancing is the process of moving fleet vehicles from one location to another in order to better balance their distribution. This is done by loading the devices into a van, truck or cargo bike and placing them throughout the service area. 
Since riders have numerous options where they can start and end their trips, all fleets—from fully-docked bike shares to free-floating scooter schemes—require rebalancing. 
A quick web search for 'rebalancing' will deliver a number of papers (and Reddit threads) that delve into mathematical models for route optimization. And if you're really keen, most cities mandate a public data stream compliant with the general bikeshare feed specification (GBFS). With a few hours and a GitHub account, you'll likely be able to access real-time insights on the trips and vehicles within each network. 
Raw data is great, but what's it really like in the field?
Rebalancing is the most dynamic element of vehicle-sharing, and of chief importance among daily tasks for the local operations team. In a nutshell, a public micromobility fleet is divided into 'hubs' (also known as corrals, pods or parking bays). These hubs are distributed across key points-of-interest (POIs) within the geofenced service area. 
For a city-wide bike share using docking stations, hubs and stations are one in the same. A free-floating system will also have set locations where vehicles are placed, just minus the physical lock-to.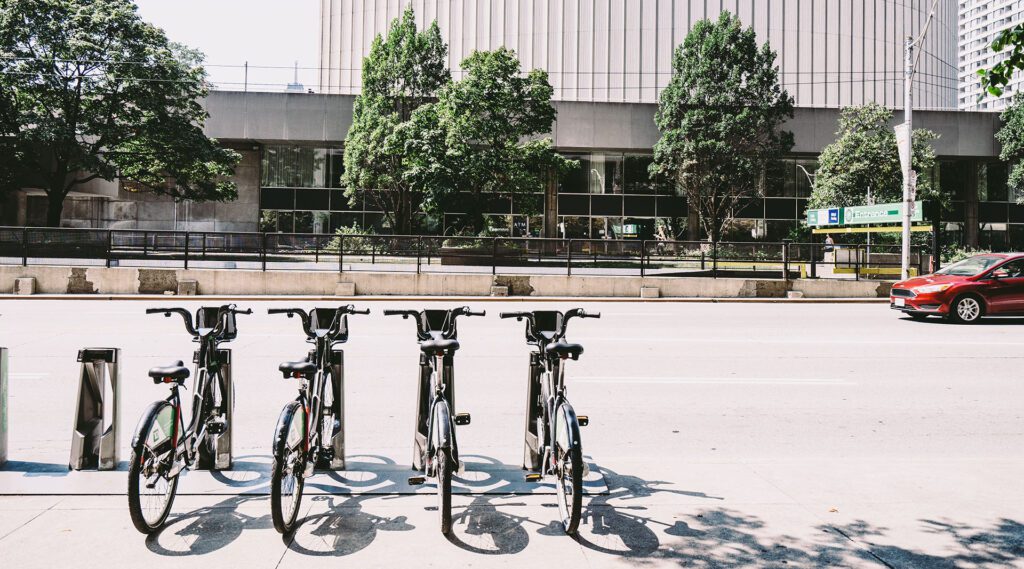 Photo by Scott Webb on Pexels
How is rebalancing done throughout the day?
Availability and accessibility are the name of the game. If scooters or bikes are consistently available in optimal locations, it builds trust in the system. Customers are more likely to integrate micromobility into their daily routines if they can count on where and when they can start a ride. 
The tricky part is that demand on a vehicle sharing network isn't uniform, even day-to-day. Hubs will need to be restocked in the evening or early morning, and depending on the service area, but there will likely be additional rebalancing periods throughout the day. 
To optimize your labor strategy, it is important to understand the variety of reasons why vehicle supply might drain from certain areas and pool in others. To name a few:


1. Location
Clusters of vehicle drop-offs tend to form around points of interest such as entertainment and business districts.


2. Topography
With pedal bikes, it's less strenuous (and more fun) to ride downhill. Vehicle hubs at the top of a hill are more frequently used than those below. 


3. Safety
Road quality, width of bike lanes and traffic flow are important considerations that will affect where and how far people ride.


4. Weather
To each their own, but we'd rather not bicycle in a rainstorm. If morning stormy skies clear up in the afternoon, ridership will fluctuate accordingly. 


5. Comfort 
Arriving at the office sweaty or windswept is not ideal. Certain rider groups might take public transit for their morning commutes and choose to rent a scooter or bike on their way home (or to a major public transit hub).


6. Modality 
Scooters, bikes and e-bikes are used in similar ways, but demonstrate different trends such as trip distance. This is an added difficulty for operators with multi-modal fleets.


7. Time of day
Workplace to grocery store to visit with Gran—simply put, people go to different places at different times of day. Additionally, most people feel safer riding during the daylight hours.


8. One-off events
A concert, festival or voting day might create a huge flux in demand for a single occurrence, in which case there is no guarantee of two-way traffic. 


9. Supply
Riders may want to start at one hub, but consistently find no vehicles available and are forced to walk to the nearest hub. This makes dockless or hybrid systems ideal for operators because hubs can be easily added and moved. 
Keep learning with our rebalancing strategies series
Managing demand in a scooter or bike share is a challenging process, but rewarding when you get it right. The goal is to ensure scooters and bikes are available where and when riders need them, but where do you put those vehicle hubs in the first place?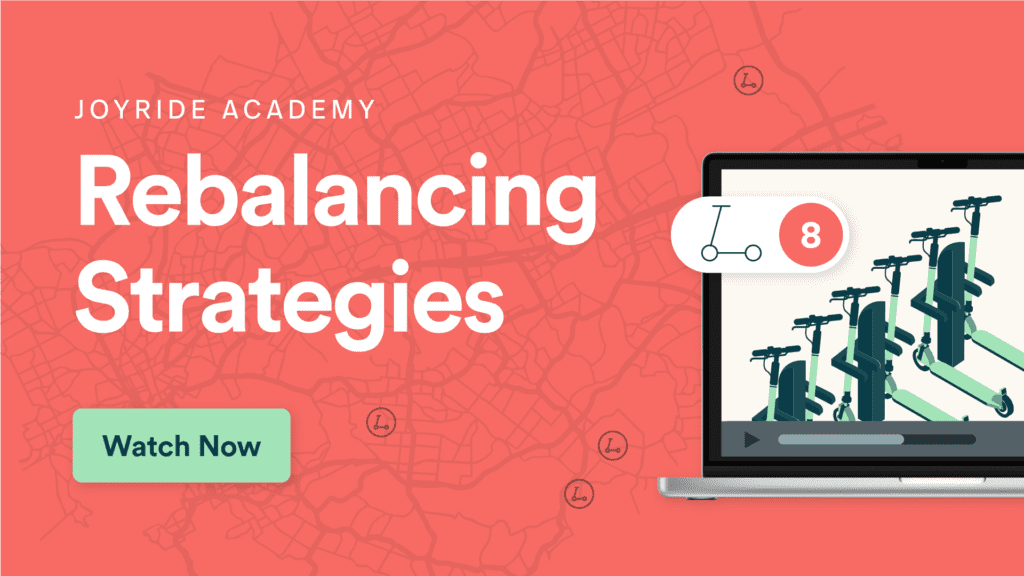 Lucky for you, we've created a three-part video series all about rebalancing. This free, in-depth course will help you to:
Identify where to deploy hubs
Examine and adjust to trends
Predict future demand
You'll also learn about in-field labor shift design, advanced KPIs to track efficiency and third-party data tools to optimize distribution. Ready to shift into the next gear? Head over to Joyride Academy and join for free!
Learn More About Joyride's mobility platform solutions