There's a lot to get excited about when starting or expanding your micromobility business. We all agree that renting out e-bikes and e-scooters can make you a lot of money. Whether it's your side-hustle or you're planning to ride into new markets, the biggest question you should be asking is: does my technology platform help or hurt my goals? 
When it comes to owning an e-scooter or e-bike fleet, your rider app is the most essential item in your toolbox. Aside from your vehicles, your app is the face of your business. Customers use it to rent, pay and navigate. And you use it to track, well, everything from backend system management to customer interaction to in-app advertising and every touchpoint in between. 
Many entrepreneurs assume the most lucrative way to run a micromobility business is to either build their own app in-house or sign up with a corporate provider. While these options do have some advantages, you will save a lot of time and money choosing white-label software. Getting a fully branded micromobility fleet app has never been easier. So let's get into why and how.
What is white-label software?
White-label is any product that you purchase and rebrand as your own. Many companies you interact with every day use white-label products — you just don't know it. For example, the stainless steel water bottles your college or local gym sell are always made and distributed by a third party. 
White-label software, on the other hand, is a SaaS (software-as-a-service) business that leases out the rights to their software. They charge an agreed-upon monthly fee. These digital products are usually a combination of software and support services, such as tech support and branding, that reduce the time it takes to get your project launched or expanded into new markets. Joyride is particularly unique in the SaaS space due to providing highly customized tech products that go beyond the standard "flip-the-switch" approach. 
Why Choose White-Label for Micromobility?
When you don't have the time or overhead to build software from scratch, white-labeling is a great solution. But it isn't the only one. Many micromobility businesses join an internationally recognized provider because they think the fees and other charges are worth the brand recognition they offer. In the long run, however, these companies take a bigger percentage of your bottom line.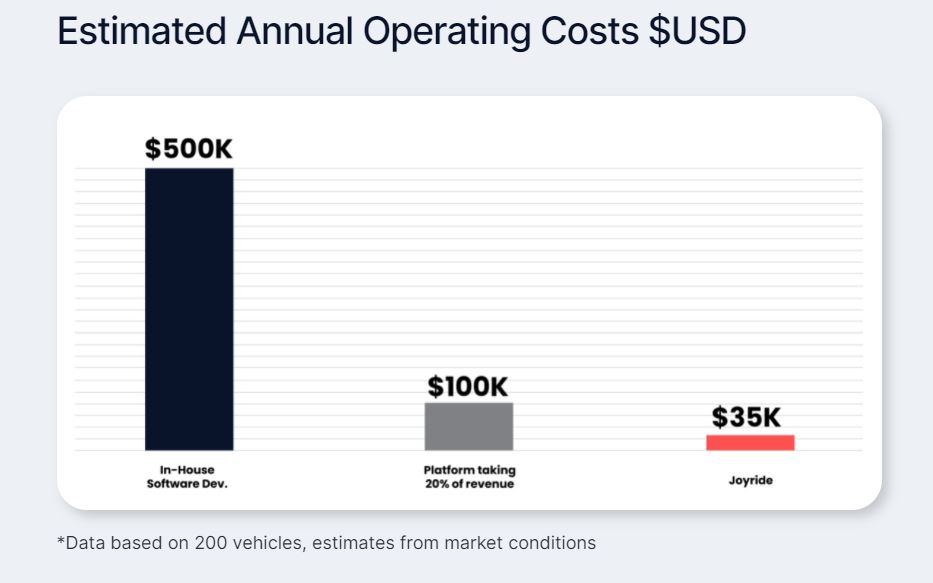 Let's look at the eight key reasons you should think of switching to a white-label platform for your e-scooter share business.
The Big 8 Benefits of Choosing White Label Micromobility Software in 2022
1) Increased Business Revenue
White-label micromobility platforms don't cut into your revenue as much as you think. That's because the monthly fee Joyride charges is where our fees end. So it's much easier to budget and plan your business growth. Joyride Alliance can also help you save big on micromobility insurance and other industry perks.
2) Faster Branded Fleet Scaling
White-label branding is an excellent option for releasing your fleet in emerging markets when in the past it would have been cost-prohibitive or simply not allowed by your provider. Joyride makes it easy for businesses to expand at a profit due to our competitive costs. Our team also leverages hardware contacts to help you acquire more vehicles, docking stations and other fleet needs. 
In fact, Joyride has a dedicated Vehicle Hardware Team that lives and breathes hardware procurement for our customers, meaning you get scooters at unbeatable prices and at shipping speeds unlike anywhere else.
3) Reduced Number of Support Tickets
Migrating to a third-party platform takes just a matter of days. And once completed, it won't take long to see a decrease in support tickets. For example, Joyride recently helped a U.S. scooter-share operator double their fleet size while reducing their outstanding support tickets by 20x.
4) Higher Customer Retention
With a lot of the software maintenance and innovation left up to us, you can accelerate responsiveness to customers and better meet their demands. Rather than spend all that time tinkering with an in-house solution, you can focus on attracting new business, and provide them a service that works as intended, right out of the box.
5) More Third-Party Integrations
By choosing white-label, you'll have access to crucial integrations. This magnifies your competitive edge. Things like navigation services, autonomous vehicle tech, data-sharing systems and other integrations makes your business much more desirable to cities that are selecting companies based on their RFP process.
6) Better Connections to Bigger Networks
Choosing in-house software can make adapting to the constantly changing micromobility landscape. SaaS providers often have long-standing relationships with municipalities, transit agencies and government officials. 
For example, Joyride's ties with UK's Department of Transport benefits operators that are vying for a coveted position in the region's new scooter-share program. A connected network of city systems and micromobility entrepreneurs makes for a software platform that only gets smarter as it grows.
7) More Time Saved
Want to reduce your workload without sacrificing services? Using a white-label platform reduces the need to spend time on R&D, bug fixes and engineering. You'll also have a knowledgeable and dedicated team to answer any of your technical questions. The less time you spend Googling solutions to software issues, the better.
8) Zero Expertise Needed
Concentrate on what you're an expert at – giving your customers the best experience possible. With a one-stop platform, you'll have all the tools you need. Just choose a plan, onboard and get back to making cities greener and clients happier. Sounds easy, right? We've been in the industry since the beginning, and we know what you need to succeed. To see our success in motion, check out this feature on one of our business partners, Ginger Scooters.
The (Minor) Downsides of White-Label Micromobility Software
Although we swear by the benefits of our software, it isn't for everyone. Some entrepreneurs want complete control over functionality, right down to the code. This just isn't possible with white-label products. 
Also, some businesses are fine with keeping most of the control within a parent company's domain. Working with an international provider means more restraints, but you get to let go of big decisions making. 
The elephant in the room with private apps is price. You'll need the capital and time to develop software. A feature-packed software application costs anywhere from $100,000 and $200,000. Not to mention the overhead to keep it running efficiently. They also take at least a year to launch, with many spilling into two years or more. So if you have the time, skilled labor and money, going alone could be the option for you.
It's Never Been Easier to Switch to Joyride
Choosing your micromobility platform is a big task. You've got a lot to factor in and compare. We're here to help. As veterans in the industry, you can expect us to answer your questions honestly. 
There's a lot to love about switching to Joyride's white-label software. We haven't even gotten into the direct support and campaign features. Remember, beyond providing the backend management and white-label app needed to power any scooter-share, Joyride is your one-stop solution for hardware, insurance, city permit setup, industry resources and all other considerations that come with your fleet. 
This year, build your fleet as efficiently as possible. Contact us today to learn more about starting or switching your business to Joyride.