The top 4 mobility trends we saw at CES 2022
With the global pandemic still looming overhead, CES 2022 managed to hit the Las Vegas showfloor last week to give gadget-seekers a glimpse of incoming innovation in the technology space. While conference attendance was at roughly 25% capacity compared to previous years (45,000 vs. 170,000), the Consumer Technology Association provided an environment for people to safely gather and drive discussions on the future of mobility. And driving, of course, we definitely did plenty of.
From self-maneuvering AI to more pedal assistance, here are the top trends that we saw (and spoke about) at CES 2022:
1. Micromobility for delivery
Electric micromobility for delivery is about to explode. As urban density continues to increase and cities continue to reshape their infrastructure to disincentivize car transport, nimble form factors like e-bikes, mopeds, e-cargo trikes and other micro devices are coming to the fore of first and last-mile delivery of food, groceries and parcels.
Cake released a new modularly designed electric moped directed wholly for the delivery space. French company Wello, meanwhile, has a covered e-cargo trike. So does US designed and manufactured Coaster Cycles.
Expect to see a major uptick in utilization of these form factors delivering your next Friday burrito craving and same-day dropoff of your local business parcel deliveries. You'll also see the rise of a new age of micromobility 3PL firms that own these shared fleets and manage the orders from companies like DHL, FedEx, UPS, Doordash, UberEats, Getir and Joker, to name a few.
2. More safety in micromobility
AI may still be in its micromobility infancy, but by January 2023 it'll be a growth spurting toddler. We're already seeing pilots of onboard camera systems running real-time lane and pedestrian detection from companies like Luna Systems. They are being joined by out-of-stealth-at-CES AI firm, Hello Llama, with whom we shared the stage at the conference at an industry panel held on January 6. Together with representatives from Helbiz and C3 Strategies and moderated by author Andy Boenau, Joyride's Andrew Miles (who recently took the helm of our newly launched Vehicle Hardware Team) spoke about how tech is facilitating more safety and adoption in the micromobility rental experience.
We also have AI driving pre-collision alert by companies like Eye Net Mobile. The next evolution of the Eye Net technology can be informing urban planners on how to better design speed limits and deploying more appropriate pedestrian cross walks, just as one example. By next year's CES, expect to see many of these tech stacks standardized in many global fleets and/or mandated by many municipalities.
From the vehicle hardware side of things, we're seeing major improvements in frame design–like tube chassises–and sizable improvements in wheel and tire implementation. Couple that with enhanced lighting systems to alert other riders and autos at night with turn signals and the visibility liabilities of past years, are just that, of the past.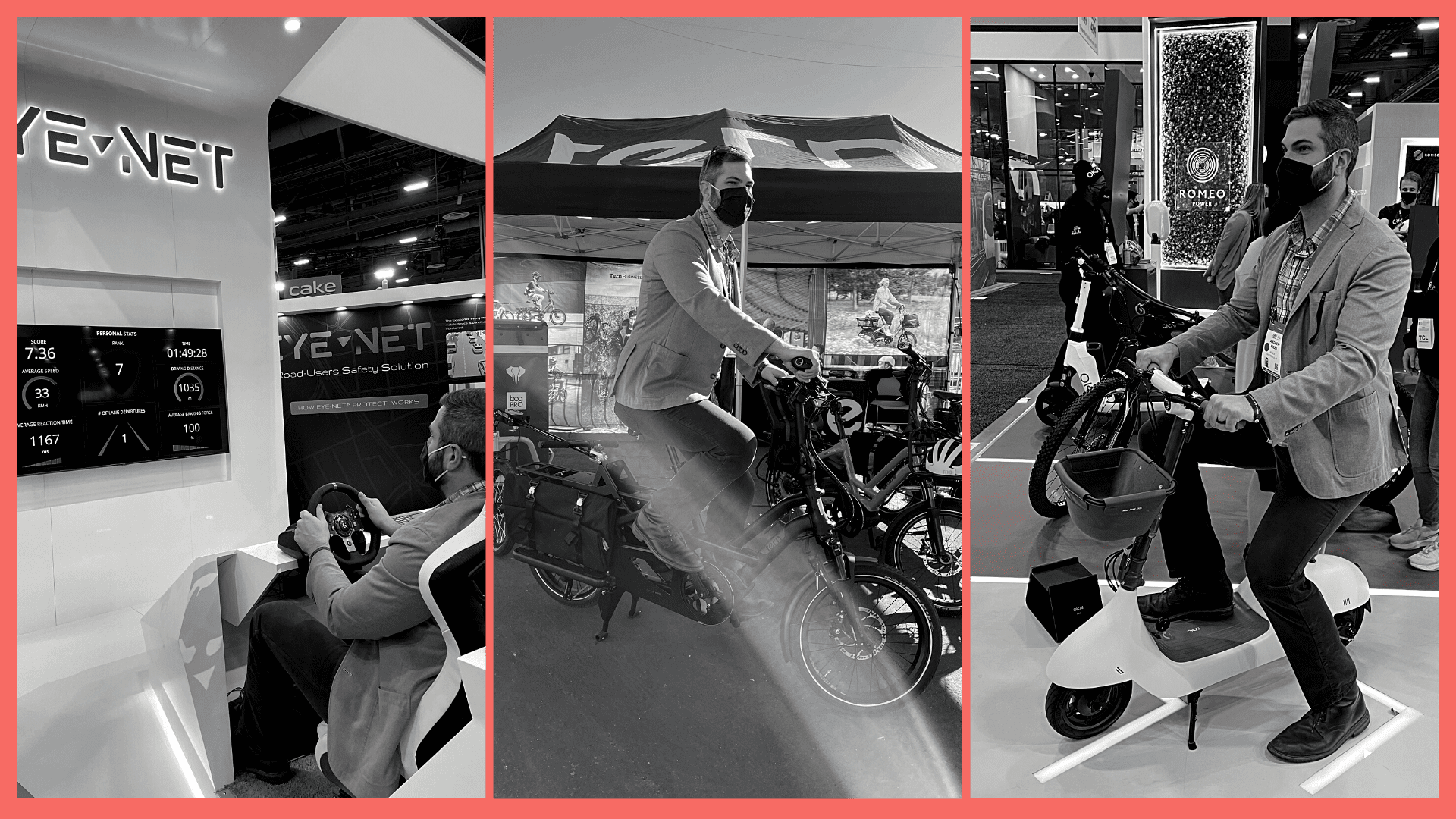 3. Say hi to seated form factors
A wide variety of pedal assist and throttle-powered e-bike and moped-esque devices are being incorporated into the modal variety. These variations each aim to bridge the use case gaps riders face when hesitant about switching to fully electric micromobile options from fossil fuel based incumbent powered devices (e.g. cars and trucks).
The Okai Beetle appeals to those who are hesitant about standing on a kickscooter while still providing the lightweight and nimble usability of an upright kickscooter.
Hailing from Sweden, the Cake motorbike is the leader in electric motorbikes. It's smaller than a motorcycle, but harnesses the same power. These can be used in a more utilitarian sense or–where legally allowed–as street transportation at higher speeds than a moped or kickscooter.
From The Netherlands, Brekr–currently sold in Europe–has the same bulkier seat aspects of a two-seat motorcycle or traditional moped, but it is a fully electric alternative. It also incorporates all the benefits of modern swappable battery technology.
Lastly but definitely not least, Delfast is a 200-mile range vehicle that bucks many of the regulated classes of e-bikes with a high speed that has the range of many EV autos today. This bike, like the Cake motorbike, will give users a sense of safety riding on the same motorways as cars.
4. No end to electrification
If there's one thing that CES solidified, it's that electrification is everywhere–and it's not just EVs and e-scooters that are dominating the innovation. We're seeing traditional gas guzzlers go fully electric. From single track snowmobiles from Moonbikes to the all-electric Bobcat, the tourism and adventure category as well as construction industries are seeing rapid transitions. Being a vehicle-agnostic software provider, we're looking forward to integrating our platform with the newest hardware to hit the street in the coming months, and ensuring that safety is a priority thanks to sophisticated advancements on the backend side of things.
For more information about how our platform enables micromobility operators to grow and scale their shared fleets across the globe, contact a Joyride sales representative today.