Take a glance at the most recent Micromobility Landscape and you'll find a large (and growing) list of shared mobility hardware suppliers. What once was a two or three player game is now a thriving global marketplace of vehicles. While this is a big win for the industry, sometimes too much choice can be its own obstacle.
If you're looking to break into micromobility but are overwhelmed by possibilities, or if you're a current operator looking to upgrade your fleet, this one's for you.
We're detailing the current hardware must-haves (already available for purchase at our Joyride Garage e-commerce shop) and how you can leverage the expertise of our Vehicle Partner Managers to get ready to ride into 2023.
Who wants what?

Before we jump into specific form factors and features, let's take a second to zoom out on what, or more accurately who, will guide your choice of vehicles. There are three stakeholders in this decision, each with their own priorities:
1. The end-user (riders)
2. The municipality (government officials)
3. The operator (you!) 
The average end user doesn't care if their rental scooter has a studier kickstand or smarter sensors. They want a quick rental process and a fun ride. On the other hand, municipal representatives prioritize safety over the rider experience. Cities have introduced new rules (sometimes overnight) demanding that operators get safe or get lost.
As the service provider, balancing the needs of both customers and councils falls to you. Today's sharing-ready vehicles are packed with sophisticated features, but that means the average cost per unit is way higher than back in 2018.
What are the hardware must-haves?

To kick off your research we suggest making a list of all the features requested by your stakeholders (the end-user and the city). Next, add the features significant to you as a business owner; for example "stock available to ship by X date," or "price per unit less than X dollars."
Read through the list and assign each feature with a Tier 1 or 2 status–meaning essential or nice-to-have. Ask yourself, which features will radically improve the rider experience? Which features are likely to be required in the future? Which features do competitors have (or lack?) For example:
Tier 1 Features
Sturdy frame and high-quality parts
Reliable source for replacement parts
Swappable battery
Advanced IoT functionalities
High precision GPS
Minimum IP67 for electronic components
Basic integrated display
Adjustable saddle (bike)
LED headlight and tail light
Sturdy kickstand
Some cargo capacity
Integrated with software provider*
License plate holder (mandatory in some markets)
Hidden cables to prevent vandalism/tampering
Tier 2 Features
On-board diagnostic sensors
Turn signals
Modular design
Advanced integrated display
User-swappable battery
Integrated helmet lock
Custom colours/branding
Two brake handles (scooter – mandatory for German market)
Camera system
More cargo capacity
Wider deck (scooter)
Docking station integration
Multi-modal battery system
Rear-view mirror (Japanese market)
Phone holder
Cup holder
Keep this list handy as you shop around. Ready to buy? Joyride Garage features leading brands for electric scooters, bikes, mopeds, batteries and parts. Our flexible MOQs, short lead times, local stock and personalized pricing make it easier than ever to get the vehicles you need for your micro-transit service.
Five essential considerations for shared vehicles
Below are several brand and vehicle recommendations based on five essential considerations: battery system, rider experience, support and spare parts, upgrades and integrations, and vehicle life cycle. Though we reference specific vehicles and brands, we stand by the use of any Joyride-integrated hardware for use in a sharing network.
1. Battery System
Swappable Batteries

Gone are the days of built-in batteries. It simply doesn't make sense to move an entire scooter back to a charging facility (pulling it from service and guzzling gas to get it there). Swappable batteries are crucial to get the most ride time out of each day.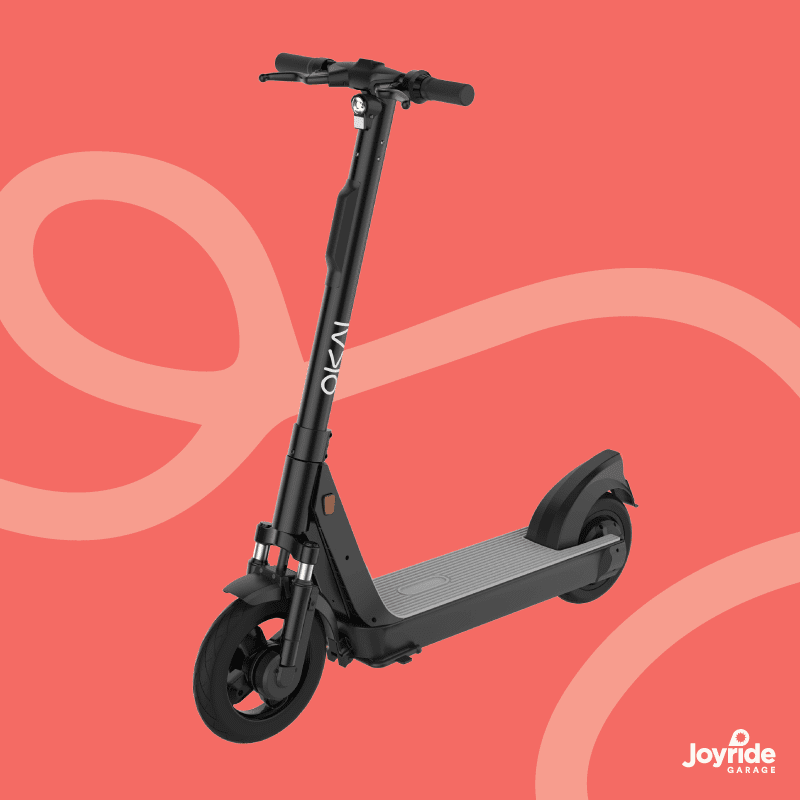 In 2019, OKAI launched the first swappable battery scooter (the ES400A) in collaboration with shared mobility operator, Tier. Today, all the top vehicle brands: Feishen, Segway, Acton, Element, Keego and Äike and more, have swappable batteries. If the battery is built-in, don't buy it*.
*This recommendation is for new fleet purchases in 2023. Operators may still benefit from purchasing pre-owned fleet vehicles with integrated batteries.
Multi-Modal Batteries

Scooters and bikes are different beasts, meaning extra logistics for maintenance and battery swapping. OEMs have emerged with an all-in-one solution: multi-modal batteries.
Element LEV is one such example. The Gravity Scooter uses the ELM battery system, making it interchangeable with the CORE series of bikes. Thoughtfully designed to fulfil the demands of a commercial bike share operation, the CORE+ e-bike ticks all the boxes for reliability, low maintenance, and commercial viability.

OKAI and Segway also offer interchangeable batteries for their top-tier scooters and e-bikes as well as charging cabinets for battery management.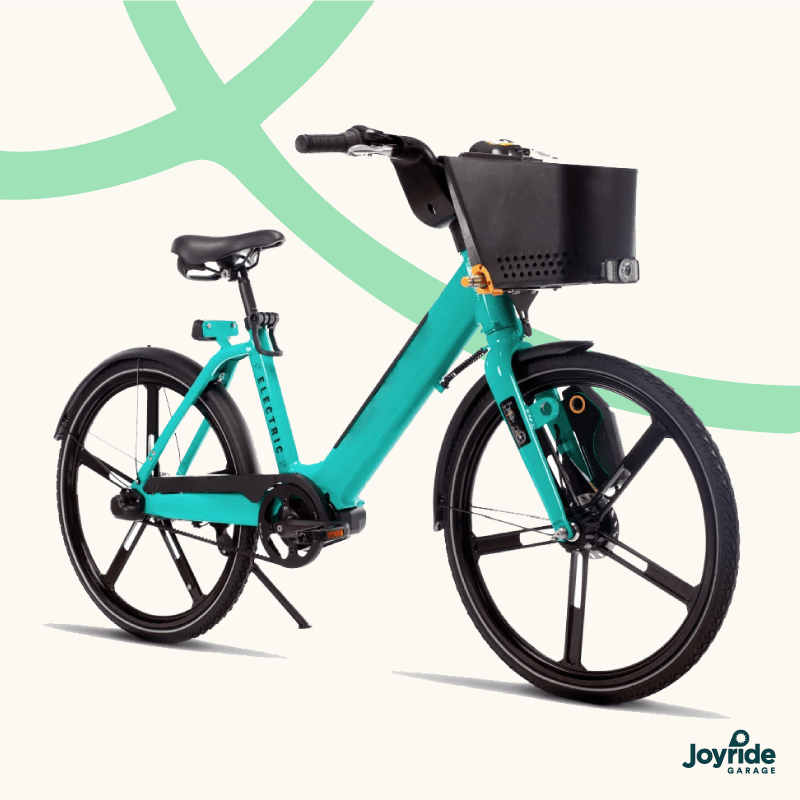 2. Rider Experience
Comfort
An easy ride is the chief concern for customers of shared micromobility. With a streamlined rental experience, the rest is up to hardware. Pedal assisted e-bikes are an ideal choice for commuters who'd rather not arrive sweaty to the office. Operators catering to the commuter crowd should deploy durable units with decent cargo capacity for laptop bags and lunchboxes.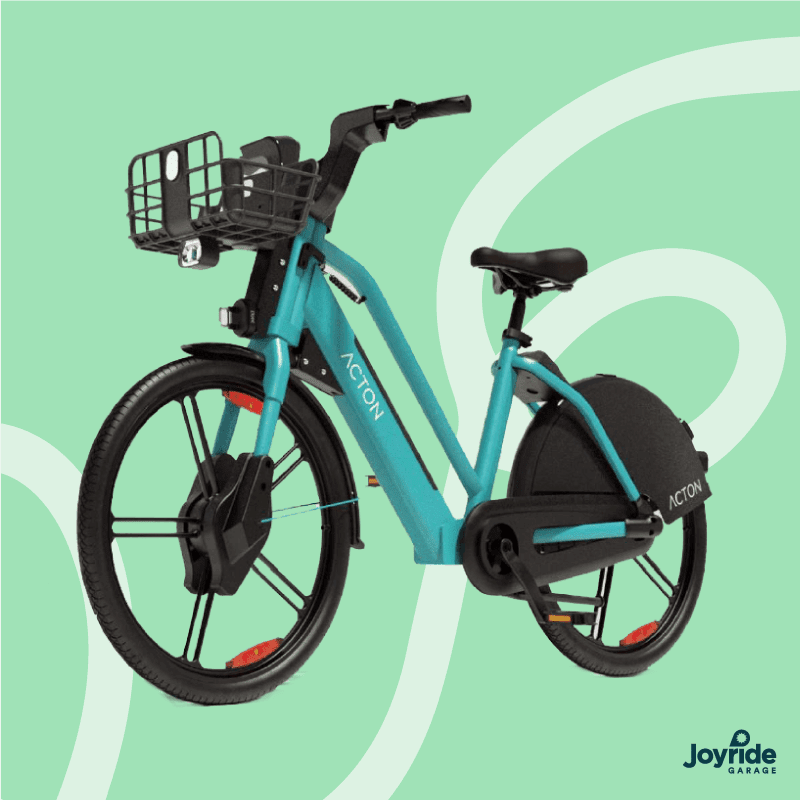 The Acton Nexus e-bike is a popular choice for city bike shares. The step-through frame, adjustable saddle and covered rear wheel all contribute to a comfortable riding experience. For riders who like a little data, the Nexus comes with an integrated dashboard to display battery level, speed, and mileage.

Other popular choices for electrified bike shares include Segway's Urban A200, OKAI's EB100 and Fifteen's e-bike (previously Zoov).
Cargo Capacity
When it comes to cargo, commuters don't need much but why not leave a little wiggle room? Locals who use bike share networks tend to ride out for errands, then return home via public transit or taxi. With increased cargo capacity, such as the rear rack attachment on the OKAI EB100, it's more viable to use a bike for the return trip (loaded with shopping, groceries or dry-cleaning).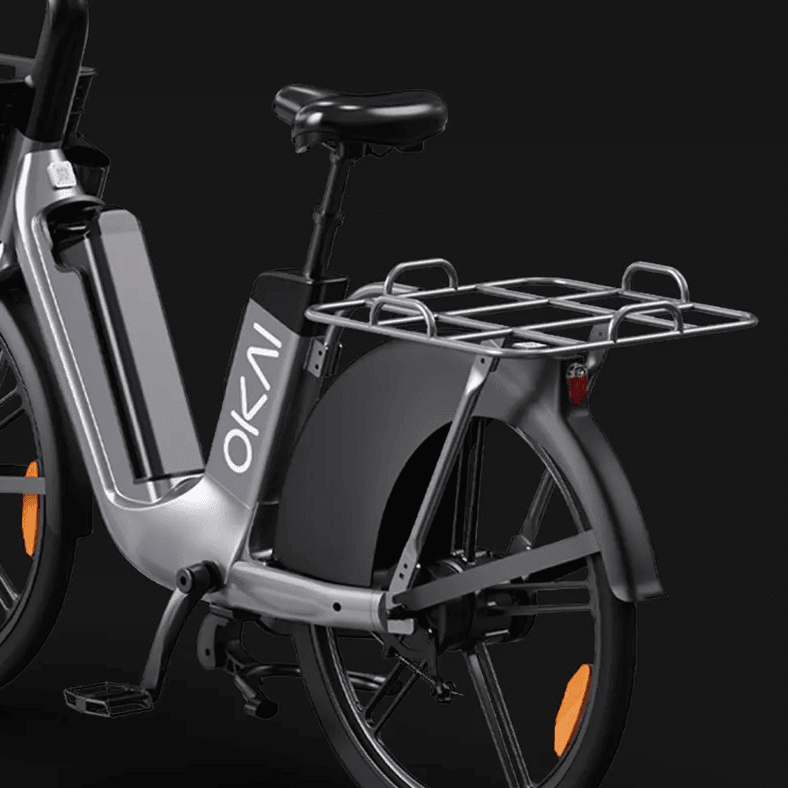 [photo source: https://eu.okai.co/]
3. Support and Spare Parts
Replacement Parts

If you're an operator with a lot of vehicles, you're going to need a lot of spare parts. Large-scale operators in multiple markets are best off working with leading manufacturers such as Segway, Feishen, OKAI and Acton, who already supply high volume to the industry. OEM's who deal in lower volumes are less reliable to maintain support of older models and it can be tricky to get support for replacement parts.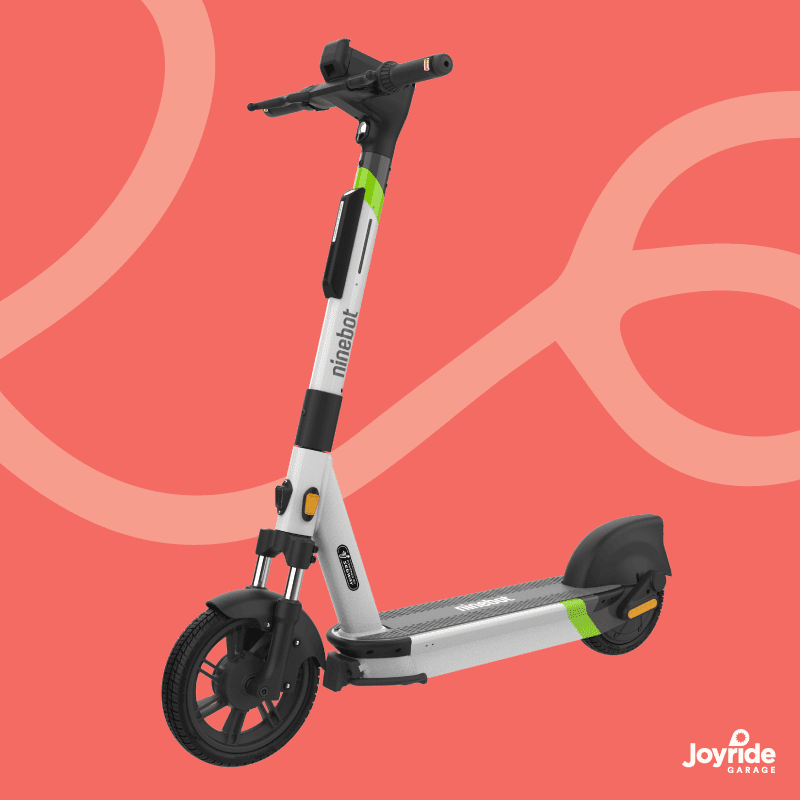 Segway's Max Pro and Max Plus scooters are used in great numbers by operators around the world. The Max Plus X scooter is the newest model packed with powerful features. Pre-built with Segway's Gen3 IoT, onboard geofencing, high precision GPS and multi-language audio, this model also has a multi-functional dashboard with cellphone holder and wireless charging.


The swappable battery is backwards compatible with the Max Pro and Max Plus as well as interchangeable with the A200 e-bike.
Local Production

Most electric vehicles are manufactured in Asia, from which shipping has become increasingly time-consuming and expensive. After factoring in freight and import fees, buying local might make the most financial sense.
The Äike Original (previously known as Comodule's Co-Scooter) is ideal for European scooter-share operators. It's the only electric scooter built in Europe and 42% of input materials used in production are recycled. 
Äike's 10-inch pneumatic puncture-proof tires have been tried and tested in all weather conditions – from the Mediterranean heat to the Nordic winters. EU-based production also makes it easier to get spare parts for your fleet.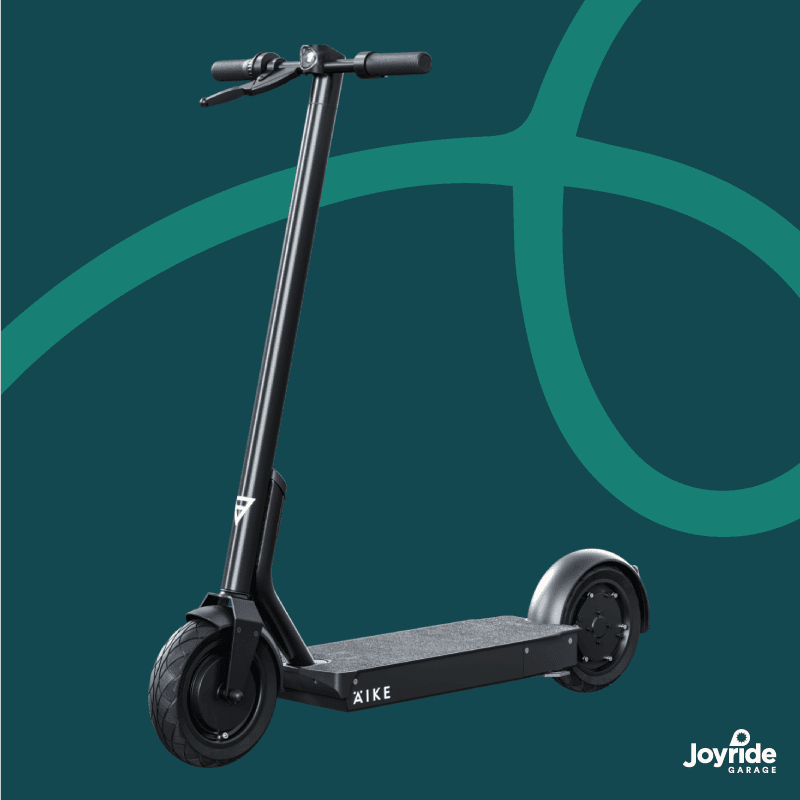 *Though assembled locally, some European and North America manufacturers still source parts from Asia so be sure to do your research if end-to-end local manufacturing is important to you.
4. Upgrades and Integrations
Docking station integration
If you're looking for a turn-key solution, you may prefer to purchase from a company which manufactures both vehicles and charging infrastructure. Acton is an ideal partner for docked systems–from singular private fleets to city-wide bike shares.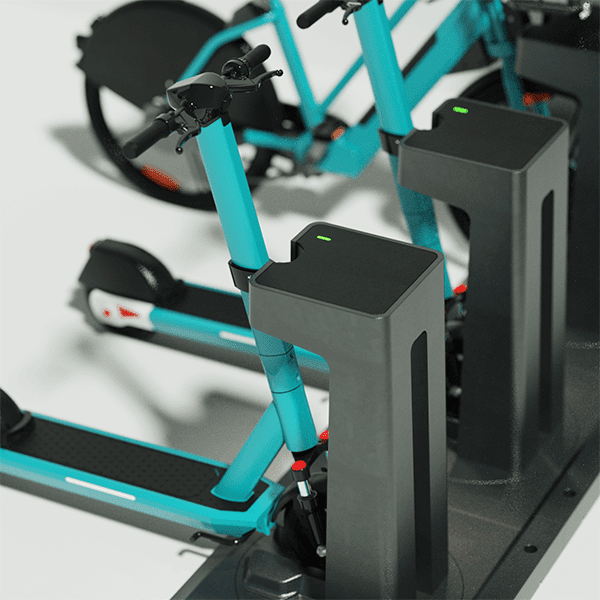 [photo source: https://acton.space/]
Acton stations (previously Duckt) are fitted for both scooters and e-bikes, with the added bonus of being hardware agnostic. This makes it easy for operators to expand their fleet outside of a single product portfolio.
Of course, it is possible to purchase from separate manufacturers, but each integration will require additional research and testing.
If your system lacks space for large, static charging stations, modular might be the way to go. The Fifteen e-bike is operable in free-floating, hybrid or fully-docked systems. Fifteen's solution is scalable to your needs, meaning a single parking area could host one or one hundred charging spots.
According to Fifteen, the solution is (almost) endlessly deployable.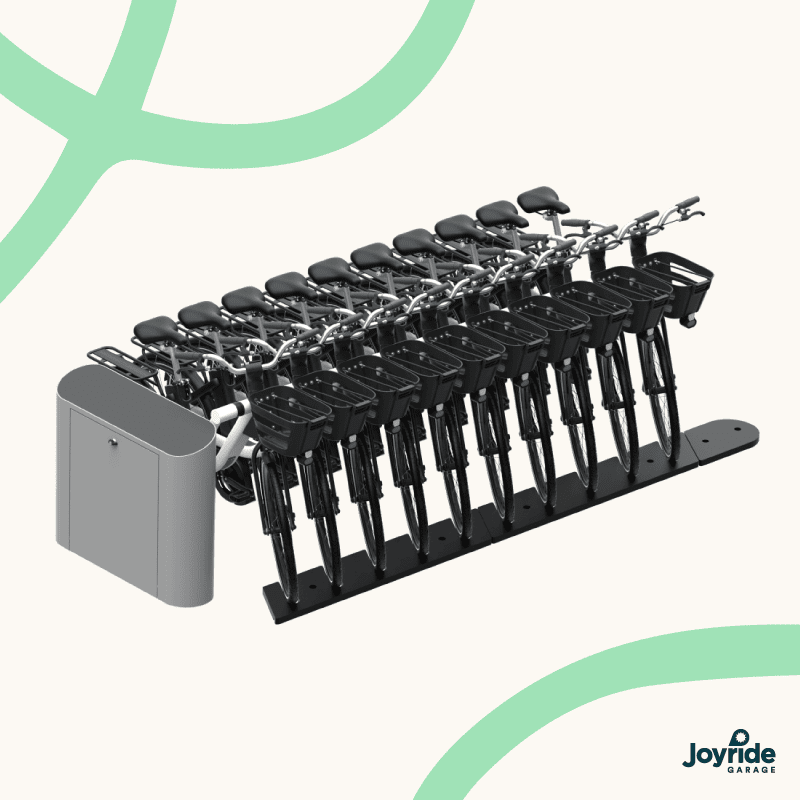 [photo source: https://fifteen.eu/]
Vehicle upgrades
Modular design and devices with tiered feature options are a major asset for operators in new markets. Since regulations are prone to change (often at the drop of a hat) it might be prudent to purchase scooters or bikes with the necessary electronics to upgrade as the future demands.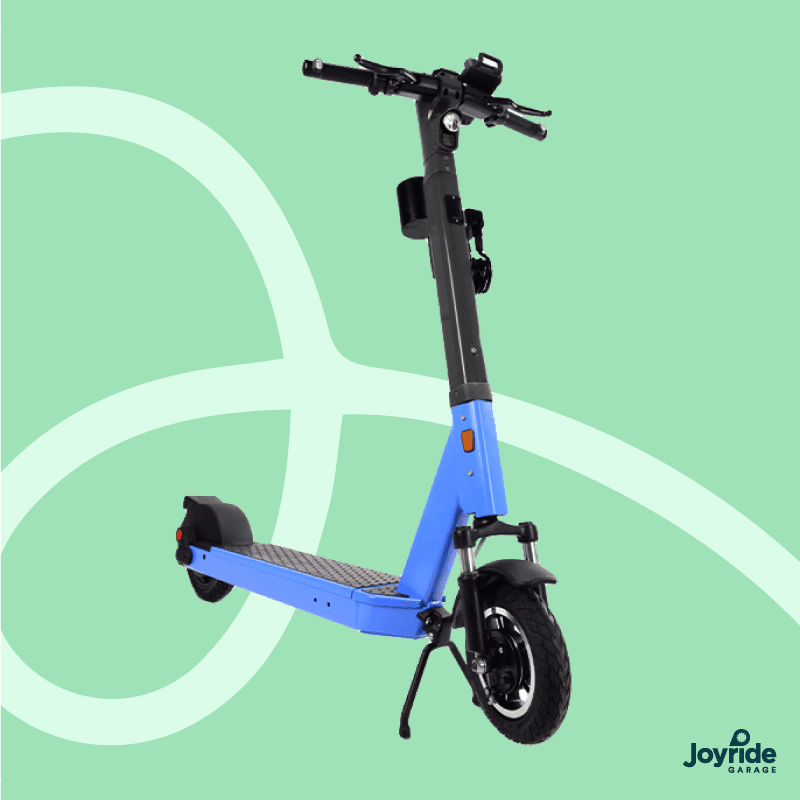 The FM-C1 PRO is Feishen's most professional sharing e-scooter at an impressive price to performance ratio. The robust aircraft-grade aluminium frame ensures at least 18 months of use in a sharing network. This unit has front and rear indicator lights, a front double suspension fork, wireless charging phone holder and the necessary electronics to add helmet locks as well cable locks. It also has one of the most convenient battery swapping systems on the market.
5. Vehicle Life Cycle
Refurbished Vehicles

Buying new isn't the only option to grow your fleet. Third and fourth generation scooters (for example the OKAI ES400 and ES600, Segway Max 2.3 and 2.4) are built to last. Used and refurbished models are a sustainable, and more affordable option for operators in low-income countries (or feeling the reduced risk appetite of investors). 
Operators will soon be able to buy and sell used vehicles in the Joyride Garage, contact us for more information!
End of Life

Industry-wide collaboration is required to achieve our goals for a sustainable supply chain. This starts with increasing the collection of scooters at their end-of-life. Micromobility operators can form partnerships with recyclers to track battery health and make determinations for the reuse and recycling of vehicles and batteries.
A Synchronized System
When it comes to service reliability, your vehicles and software must be in perfect sync. Choosing a hardware partner that is integrated with your software provider will shorten the testing period. This is important because additional time spent on integrations will eat into the operational window of your first season. Before placing an order with a hardware partner ensure that the brand and vehicle model is:
1. Integrated with your software provider
2. Purpose-built for sharing (not consumer models)
3. Compliant with local regulations (brakes, lights, speed) 
Get in touch with a Joyride Vehicle Partner Manager
Looking for a specific vehicle model not in our Garage? Want to list your fleet solution with us? Our Hardware Team is here to help. We're plugged in across the industry, ensuring you get the best in shared mobility hardware. As a registered member of Joride Garage, you'll have premium access to new hardware. 
Fill out our contact form to get started.