Last week, we hosted the first-ever Joyride Academy Experience at Micromobility Europe–a global conference that drew more than 1,000 people from all ends of the mobility spectrum. Our operator-focused workshop was a hit in Amsterdam, and it was just the start of something amazing.
Today, we're thrilled to announce the official launch of Joyride Academy, an online learning hub that educates, inspires and supports current and prospective micromobility operators. 
The shared mobility industry is constantly evolving, and understanding how to properly navigate it will ultimately separate the fleets that scale from those that stall. As the world's first micromobility platform, it's only fitting to take 10 years of extensive experience and share it in a way that's digestible, engaging and, of course, fun. Think podcasts, how-to videos, articles and more.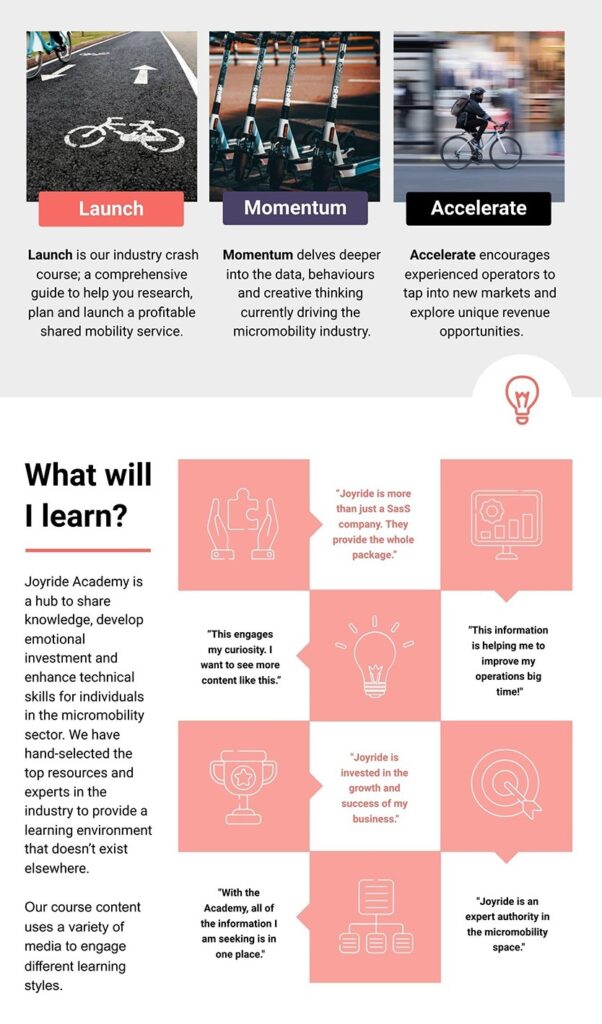 Unlike high-level and general learning portals that only graze the surface of the industry, Joyride Academy digs right into the most pressing topics for any operator, such as insurance access, funding and maximizing your operational efficiency. These and more are covered in three flagship courses, the first of which is Joyride Launch. This 10-course program is a complete guide on how to start a shared mobility service.
In the spirit of the sharing economy, we're opening up Joyride Launch for free for the month of June. Access to Joyride Academy is usually US$500 per year, but for this month only, we are those who sign up with the code JoyrideJune will redeem a free one-month pass. 
This is only the start. Content is added to the Joyride Academy platform regularly, with Momentum and Accelerate courses launching beginning next month for current and more advanced micromobilty businesses.  Our vision is to build a space where the collective experience of micromobility is widely accessible, all in one place. 
Don't forget to check out Joyride's blog for widely read industry insights, company news, customer stories, partnership announcements and trend reporting. Our blog isn't going anywhere even with Joyride Academy in play.
Have questions or comments about Joyride Academy or looking for more a demo of Joyride's micromobility platform. Get in touch with us today.