Announced this week at Micromobility America in San Francisco, Joyride has partnered with GEM to deploy IoT-connected low-speed vehicles (LSVs) for shared use.

The collaboration connects GEM, the leader in street-legal LSVs, with the world's leading micromobility software platform, making it seamless for operators to build and maintain a shared-use GEM fleet efficiently and profitably – while providing an exceptional rider experience to end customers.

This turnkey approach allows shared mobility businesses to be up and operating within days with connected, keyless, shareable and trackable vehicles.
McKinsey & Company forecasts shared mobility could generate up to $1 trillion in consumer spending by 2030. The popularity of shared-use mini and micromobility, which accounts for roughly 10% of shared mobility, is soaring in urban, suburban and coastal communities as convenient and sustainable transportation options. In fact, 43% of U.S. consumers would consider using minimobility, meaning this could become a $100 billion industry by 2030, according to McKinsey. 
"Teaming up with Joyride will make four-wheeled, street-legal GEM LSVs IoT-connected for the first time," said Paul Vitrano, Senior VP & Chief Legal and Policy Officer, Waev Inc. "Having GEM vehicles networked this way will make it painless and profitable to start or maintain a shared-use deployment capable of being controlled and managed by mobile devices."
"With their compact footprint and low-speed travel, LSVs are efficient, sustainable and fun – while capable of transforming urban mobility and shared-use applications," said Vince Cifani, Founder and CEO, Joyride. "Partnering with Waev on their GEM products furthers our global mission by providing shared mobility operators with a new option – and increased vehicle capabilities – in sustainable travel."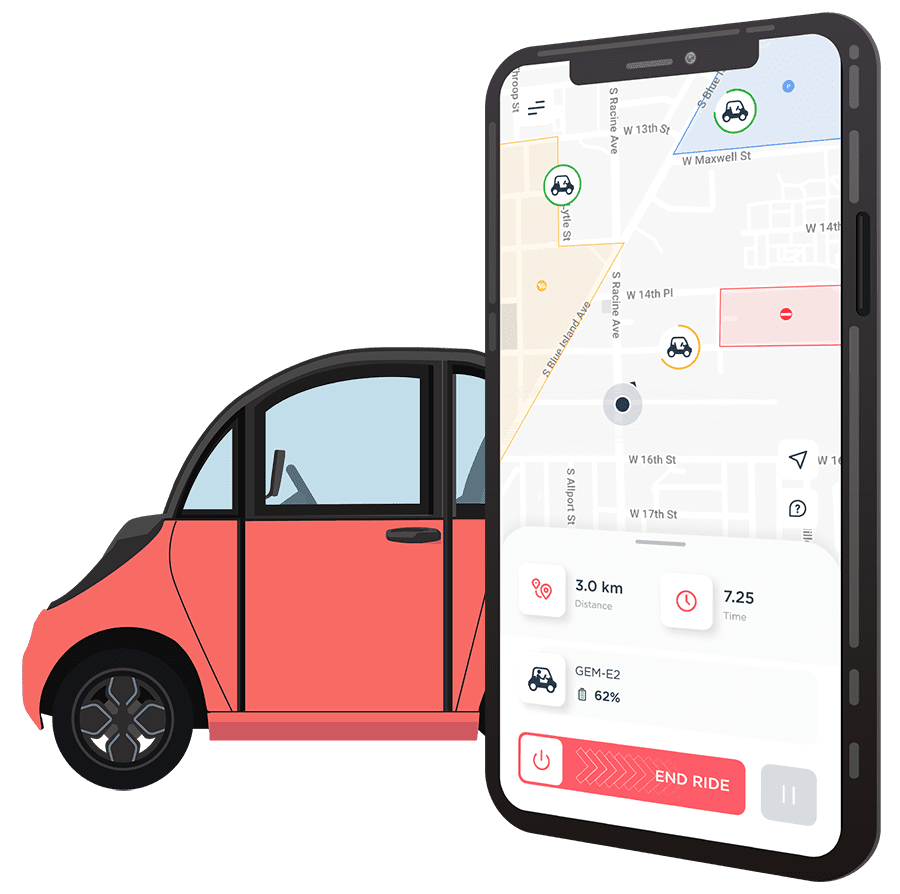 Joyride-Powered GEM Platform Features
The GEM and Joyride partnership provides operators with a tech platform that does all the heavy lifting, complete with a branded app, backend management tools, IoT connectivity and hardware integration. The Joyride platform for GEM includes more than 15 application modules, which include:
Keyless and Connected Low-Speed Vehicles
The Joyride integration is available as an aftermarket accessory offered by Joyride for GEM vehicles. The kits can be easily installed by fleet operators. Joyride-enabled GEM vehicles are also on display digitally through Joyride Garage, an online marketplace that sells shared-use vehicles with fully integrated solutions.
For more information on how to launch your own branded fleet of Joyride-powered GEM vehicles, contact us today by clicking here.