As the micromobility industry continues to soar, fleet operators face the challenge of efficiently managing and optimizing their operations. Disjointed communication across your company and inefficient rebalancing practices are just two very common problems slowing down the management process.
While Joyride's branded Rider App is a market leader in the swiftest and safest mobility rentals, there's also a solution designed just for fleet operators themselves: aptly called the Joyride Operator App. 
With a host of new features added to this offering–including our brand-new multi-scan functionality– it's time to take a deeper dive into what the Operator App is, why it's a necessity for any growing fleet and how to get your hands on it right now.
What is the Joyride Operator App?
The Joyride Operator App is a powerful mobile application that's tailored specifically to the needs of micromobility fleet operators. It simplifies and accelerates key field operations, such as rebalancing, making it an indispensable tool for operators in bustling urban environments.

With its intuitive interface and smart functionalities, the app ensures operators have real-time control over their fleets, reducing downtime and increasing productivity.
One of the most exciting features of the Joyride Operator App is its advanced multi-scan capability. This function allows you to save valuable time and significantly boost efficiency by rapidly scanning an unlimited number of vehicles at once.
Multi-scan enables much faster field operations by eliminating repetitive button clicks, so that employees can swap batteries and rebalance vehicles in seconds instead of minutes.
In fact, the more vehicles scanned equals more time saved, taking ~15 seconds per battery unlock request to ~2 seconds when there are multiple vehicles present for swapping.
As a fleet manager, imagine being able to scan 500 vehicles at once and shaving two hours off the clock in the process.
This means managing a large fleet gets simpler with each scan.
Why should operators get a dedicated fleet-management app?
Here are a few key reasons why any micromobility operator should consider integrating a management tool into their daily operations:
Multi-scan Efficiency:

Save time and boost efficiency with rapid scanning of multiple vehicles. Using the multi-scan feature drastically reduces the time needed for vehicle checks and audits, letting you handle various tasks on the go. Examples are unlocking vehicles and conducting rapid vehicle audits, all within a single app. Operators can effortlessly inspect multiple vehicles, saving valuable time and increasing operational efficiency.

Haptic Feedback:

 Joyride's Operator App takes user experience to a whole new level with haptic feedback. It provides real-time vibrations and audio alerts ensuring fast and accurate scanning processes. Operators can confidently scan vehicles and receive action confirmations without staring at the screen. This means multitasking can actually look (or not look!) like multitasking.
Instant Fleet Updates:

Stay in the know with fleet allocation, vehicle status, battery levels and maintenance needs. With instant fleet updates, operators can make informed decisions on-the-go, ensure optimal vehicle deployment, expedite battery swaps and rebalancing, and reduce the time needed for field teams to complete their tasks, all while efficiently planning routes.

Maximize Action Control: Handle your operations in tandem; unlock and lock vehicles, open batteries and more. Add vehicles to the fleet with ease, unlock them for riders, and lock them securely when not in use. Speed up battery swaps and rebalancing to reduce the amount of time field teams need to complete their work. This level of control ensures that operations run smoothly and efficiently, boosting overall fleet productivity (and, ultimately, your bottom line).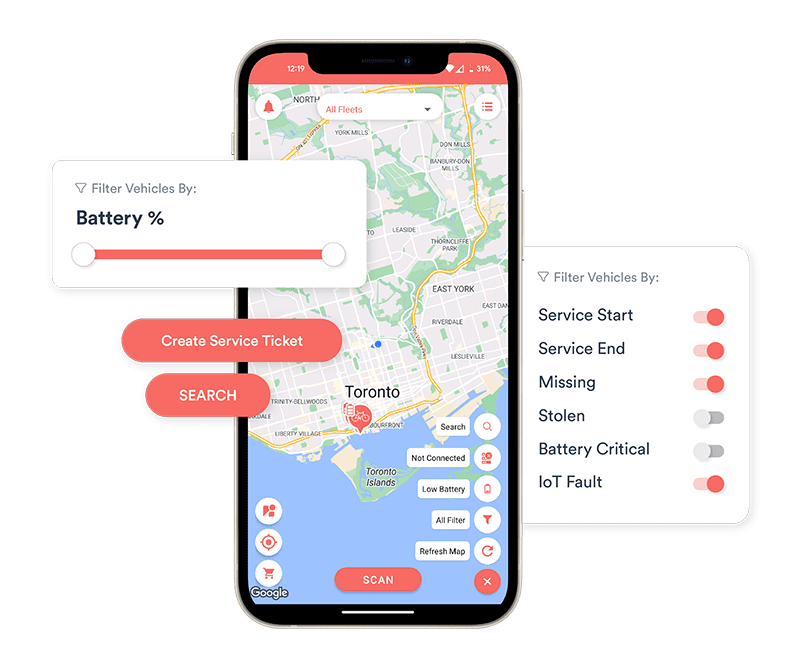 What are some other improvements made to the Operator App?

In addition to its core functionalities, the Operator App has undergone further enhancements to ensure greater fleet control: 
Intuitive User Interface:

Navigate through the app more intuitively to swiftly switch between different functions and make quick decisions to optimize fleet operations.
Improved Filtering:

Efficiently sort and access your fleet by parameters like vehicle type, battery status, GPS signal status and location. 
Intuitive Ticket Management:

The Operator App has integrated support and maintenance management features, allowing operators to address issues directly within the app ensuring prompt issue resolution and minimal disruption to fleet operations.
These additions not only refine the operator app's performance but also enhance your team's productivity level, which will maximize how your dollars and time are spent. 
If you're interested in learning more about how the Joyride Operator App can better your fleet management, or if you'd like to seamlessly integrate it into your current platform, head over to the  Joyride Operator App page or request more information here.