The tale of SCOOTY is one of resilience and forward-thinking. Founded in 2019 with a single e-scooter and an idea, the company is the brainchild of Shoaib Ahmed and Shahid Pasha. 
The business partners relied on public transit when they arrived in Canada from India in 2009. At that time, they gained first-hand experience of the importance of accessible transportation in the Greater Toronto Area (GTA). This inspired SCOOTY's mission: to connect riders to transit networks by strategically partnering with municipalities, transit agencies and residential/mixed-use developments to deploy shared electric micromobility.
Between celebrating an exclusive business partnership with Metrolinx and GO Transit, a $1M grant from the government of Ontario from the Ontario Vehicle Innovation Network (OVIN), and their triumphant first scooter-sharing season, SCOOTY's founder and CEO, Shoaib Ahmed, made time to chat with the Joyride team.

Read on to learn about the Canadian micromobility space–and what it takes to evolve from grants to GO.
Slow and steady wins the race
To date, scooter-sharing programs in Canada have been few and far between. Ontario's e-scooter pilot program (originally running 2020 to 2025, now updated to 2023-2028) allows municipalities to choose where and how e-scooters may be used. However, many micromobility operators find themselves up against a lingering (though false) notion that electric scooters are more disruptive than they are helpful to a community. 
Add urban sprawl, limited supportive infrastructure, and an operating season restricted by weather, and scooter sharing might sound like a tough sell. 
Inspired rather than discouraged, SCOOTY took a 'slow and steady' approach to bring shared scooters to the GTA–working closely with cities to understand how e-scooters could be used to help residents easily connect to, and extend, their local and regional transit trips. 
"The government does a good job at building and investing in transit, but there's still a gap in how people are able to access these services," Shoaib said. "There is a unique opportunity for shared micromobility to ease the burden currently placed on public transportation." 
First to market, quick to conquer Canadian micromobility
Shoaib went on to explain how SCOOTY evaluated Brampton as a potential first market: 
"Brampton has an extremely diverse community and is one of the fastest growing cities in Canada. There are a lot of new immigrants and households with multi-generational families, many of whom depend on public transportation to get to work and essential services."  
This combined with an ambitious 2040 City Vision, a mix of urban and suburban areas, a growing young population, and steady use of public transit–both locally and to commute to nearby Toronto–positioned Brampton as an ideal market for SCOOTY to test their thesis.
The question then wasn't 'if,' but 'how' micromobility could be brought to life in Brampton. With the Joyride team in nearby Toronto to assist in the process, the next step was getting the city on board. 
"We've been engaged with the city of Brampton since 2019, first with a micro-pilot to collect community feedback on shared scooters, and now as a service provider alongside global companies," Shoaib said. "For independent operators, my advice is to start conversations with the city early on. Work to really understand the infrastructure and its limitations and engage as many stakeholders as possible."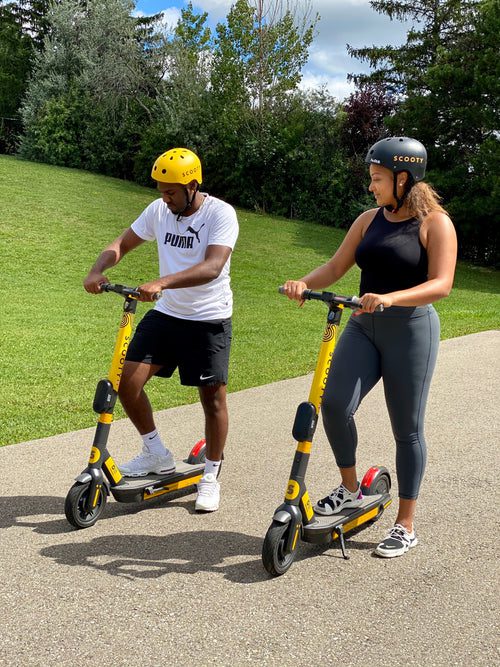 Connecting the dots with public transit
This collaborative approach with the city got SCOOTY started on the road to success, but their most recent win is thanks to the 'last-mile.' 
Starting in August 2023, Mount Pleasant, Brampton and Bramalea GO Stations became home to SCOOTY e-scooter rentals, providing customers with a new environmentally friendly option to connect to the GO network (a regional public transit system serving the Greater Golden Horseshoe region of Ontario, Canada).
The partnership between SCOOTY and GO Transit is a dynamic one, demonstrated by the bi-weekly meetings where they share data and plan new connection points for public transit and shared micromobility. The results so far look promising–with data showing a growing number of multi-modal trips. Shoaib emphasized that "recreational use is always going to be part of the mix, but where micromobility really shines is as an extension of public transit." 
In support of this initiative, SCOOTY was also recently selected as the recipient of a $1M Grant from the Ontario Centre of Innovation (OVIN C/AV R&D Partnership Fund) to develop transit-integrated micromobility in Ontario.
As part of the agreement, designated pickup/dropoff areas are indicated in SCOOTY's Joyride-powered Rider App, as well as visually with SCOOTY branded parking corrals. 

"Go Transit even made an additional investment into directional signage, which we were very grateful for," Shoaib said.

Global advantage at the local level
Two other vendors are permitted to provide shared e-scooters in Brampton, but for SCOOTY, winning customers isn't just about how and where scooters are deployed–it's about understanding local culture and using that to tailor your messaging. 
"One thing we learnt early on is the power of having a multilingual team," Shoaib shared. "Many of our customer support calls we get are not in English, but since all of our staff live in the city and speak these languages it's never been an issue."
He gave another example of how SCOOTY's marketing team has leveraged diversity in their social media strategy. Using the 'Refer a Friend' feature of the Joyride in-app marketing suite, they recently advertised a customer referral program called 'Refer a Yaar.' Yaar means friend in Hindi and Urdu–two of many languages in the Brampton mosaic.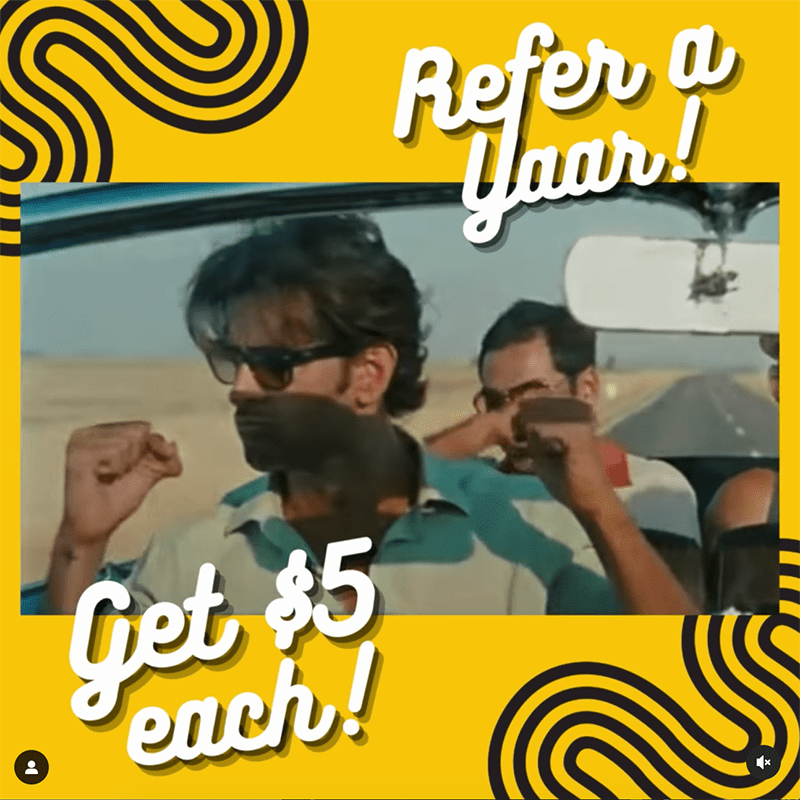 "Advertising in multiple languages has created significant engagement." Shoaib said. "This post in particular got shared around on Instagram, which directed a lot of new users to download our app".
Innovation and Inclusion 
SCOOTY's commitment to connecting communities goes even beyond rides and revenue. As an immigrant and BIPOC individual himself, Shoaib has made it a mission to recruit talent from minority groups and create learning opportunities at every level. 
"We have an executive group of six people and an ops team of 18 great people," he said. The in-field team is a mix of part-time, full-time and students, but everyone gets the same hands-on training. "Our Fleet Operations Associates learn everything about the scooters, the Joyride software, rebalancing–they also join us at meetings with city officials."
What's next for SCOOTY?
Brampton's shared micromobility program will pause in November, resuming next March with a potential increased vehicle cap to serve the eager user-base. Though their fleet will hibernate for the winter, Shoaib indicated that the SCOOTY team has no intention of resting until spring. 
"The next major evolution in Canadian micromobility–and for SCOOTY–will be to grow the multi-modal segment of transportation", he said. "If SCOOTY wins a permit in a city that requires a multi-modal solution, we'd absolutely be open to offering it–some customers have already requested e-bikes in Brampton."
The company is also looking into other opportunities for electric mobility including the last-mile delivery space, e-cargo bikes and mini LEVs. "We want to help reduce congestion and carbon emissions and feel that for short distance trips, micromobility makes the most sense. Our goal is to gradually add other vehicle types as cities evolve to include various forms of mobility for the growing needs of their populations."