People across the world are jumping on electric scooters at a whole new pace. The last thing riders need is a lengthy verification process to hold things up.  A number of municipalities and countries are now implementing age restrictions, or they want to ensure riders have a motor vehicle licence before they can rent a scooter or moped. If you're an operator, trying to implement a system that's secure, seamless and can verify an ID instantly at the point of rental can be challenging. 
Starting now, global scooter operators can offer speedy and secure real-time driver's license verification to their riders through Joyride's white-label app. Our newly integrated feature enables shared mobility users to provide a valid driver's license, prove they meet age requirements and submit facial confirmation of their identification. In other words, selfie first…then set sail.
While offered globally, this service is particularly relevant to the UK market, where the Department for Transport is enforcing that e-scooter riders provide proof of their driving licenses (either full or provisional) in order to rent scooters. With the UK's multi-million-dollar scooter trial underway, our operators already in the region (and new ones joining) will continue to stand out from the competition by making the verification process as smooth as possible for riders while immediately complying with government regulations. 
And timing in this industry is everything. Without using an instant verification system, the process requires micromobility operators to manually verify each user's license, which is expensive and tedious. It also means riders have to wait hours or even days before they can even rent your scooter, which poses a significant barrier to adoption.
Developed in collaboration with a globally trusted ID-verification service, the process takes place entirely within the Joyride user app. Here's how it works: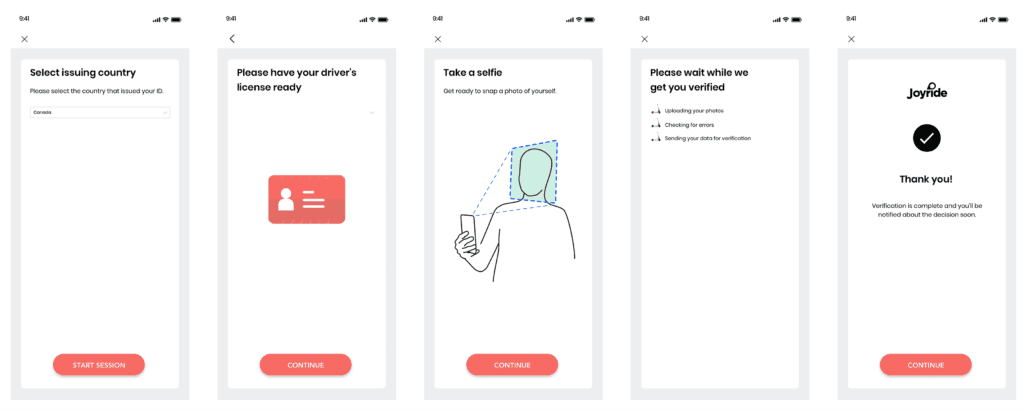 As more cities and countries introduce their own compliance guidelines, our software platform will continue to adapt and grow accordingly. To learn more about Joyride's lineup of rider app features and compliance consulting services, contact us today.